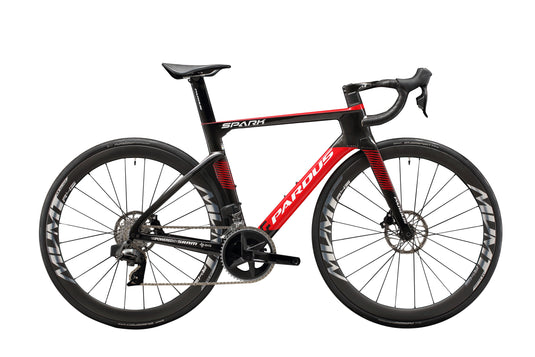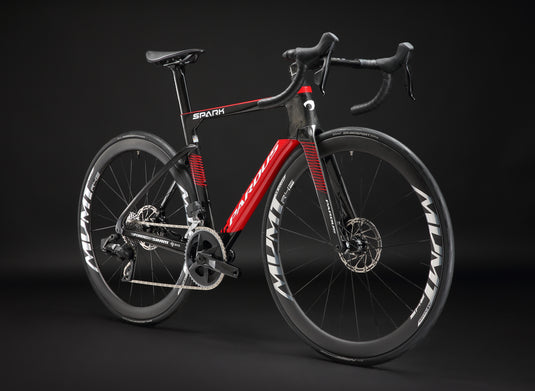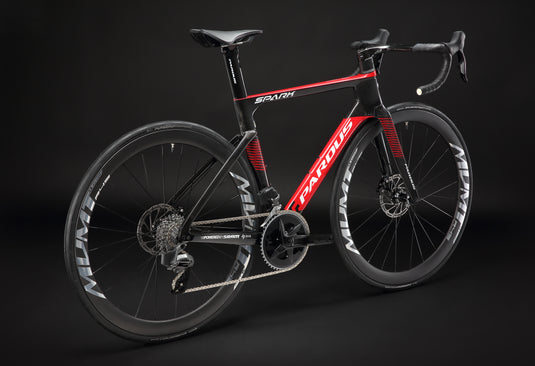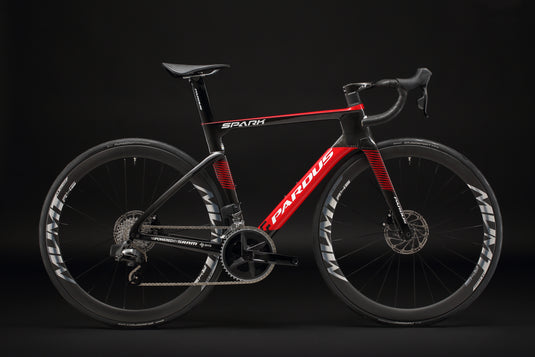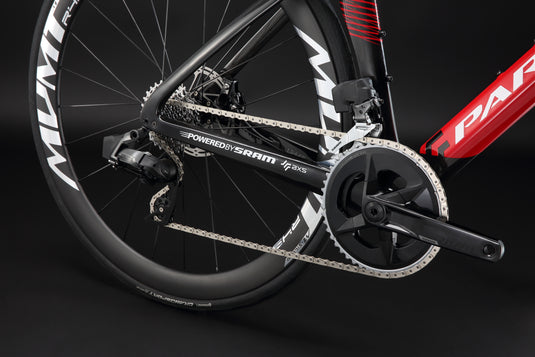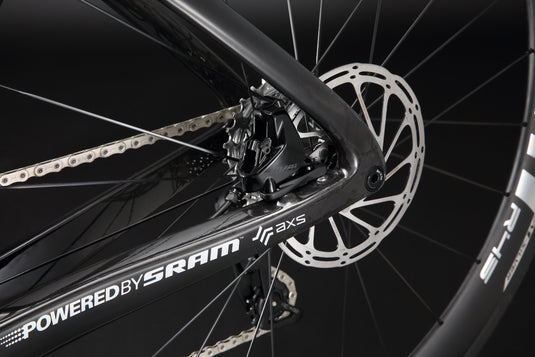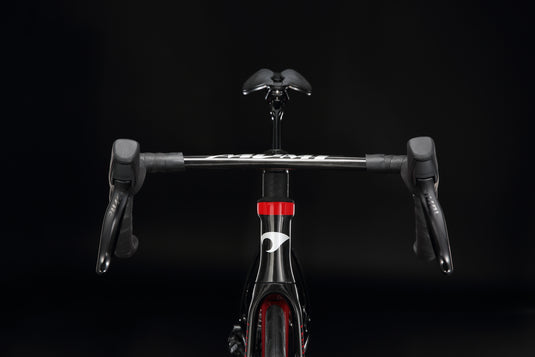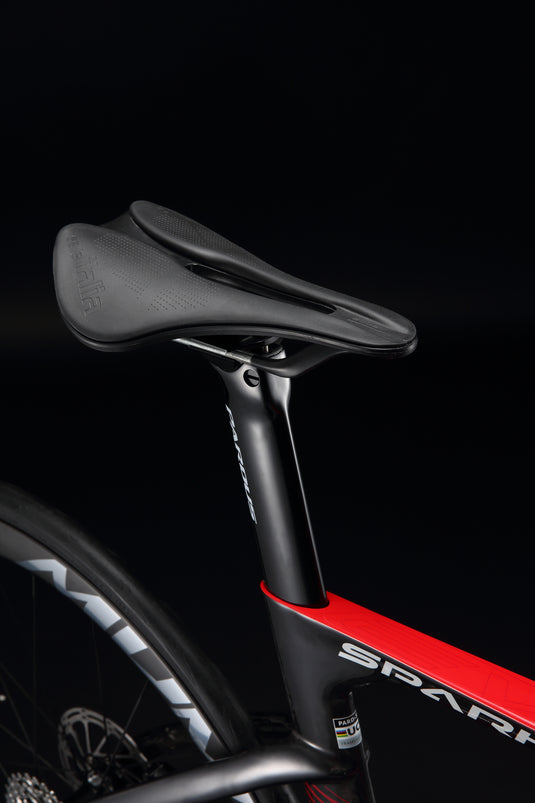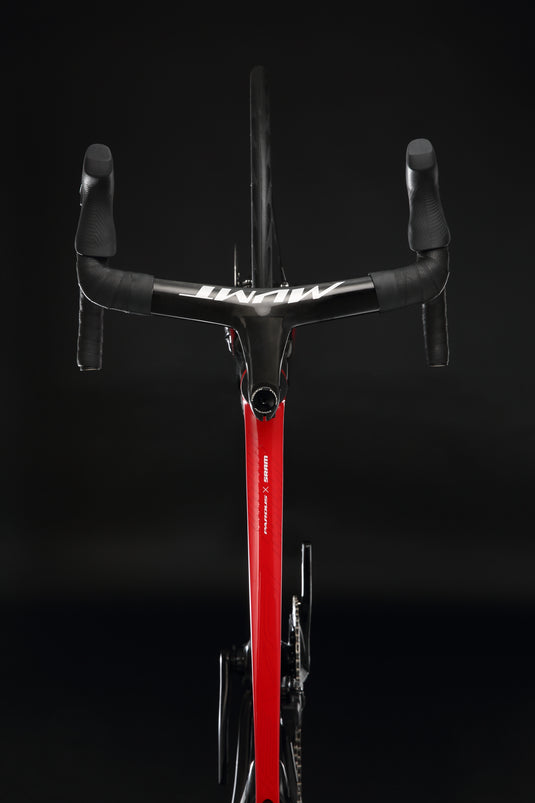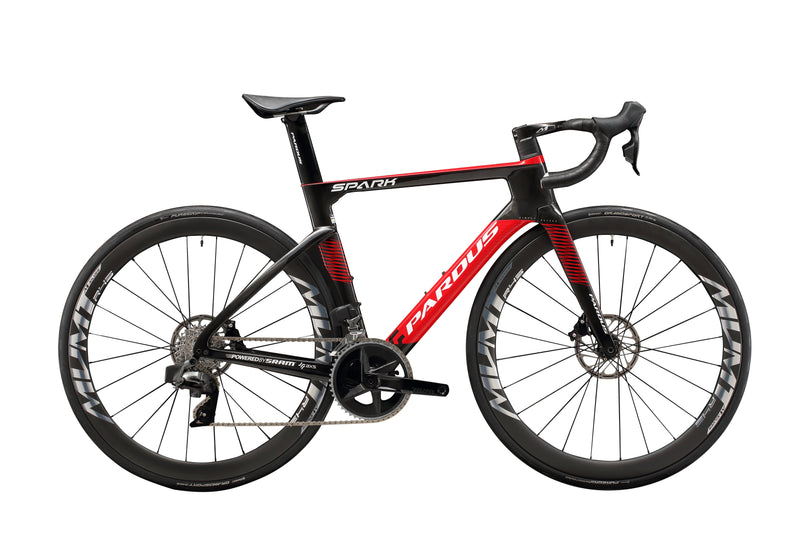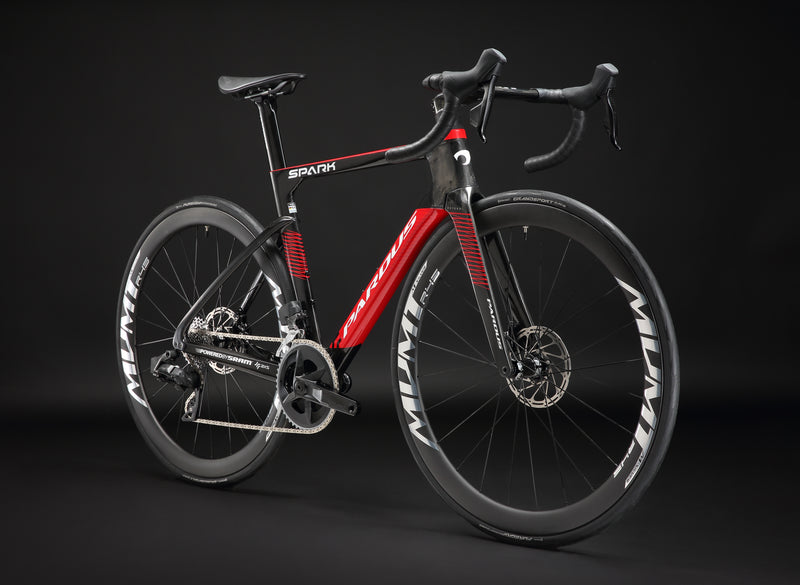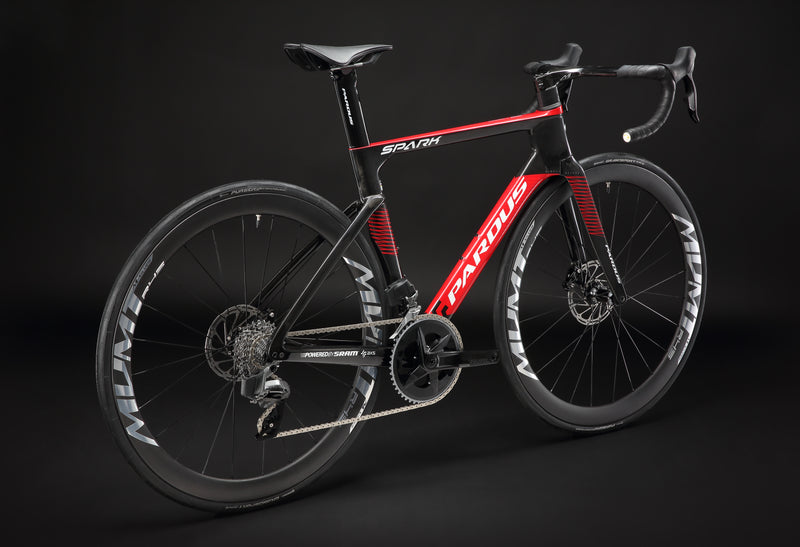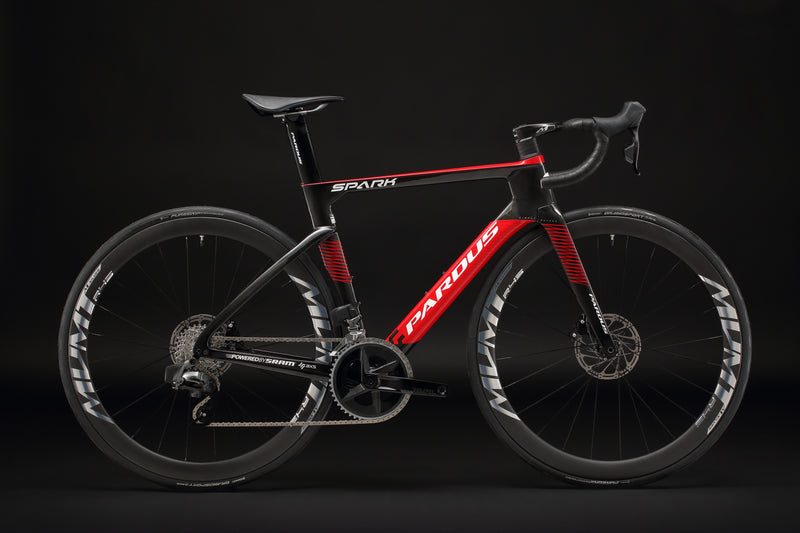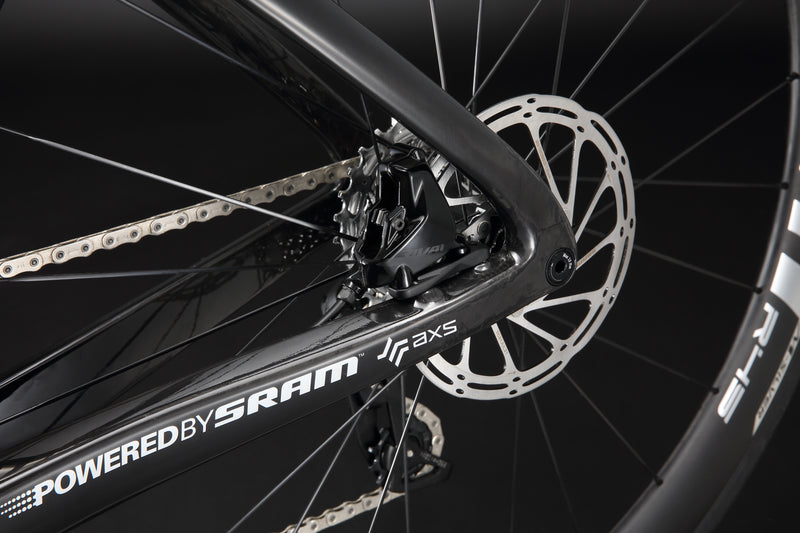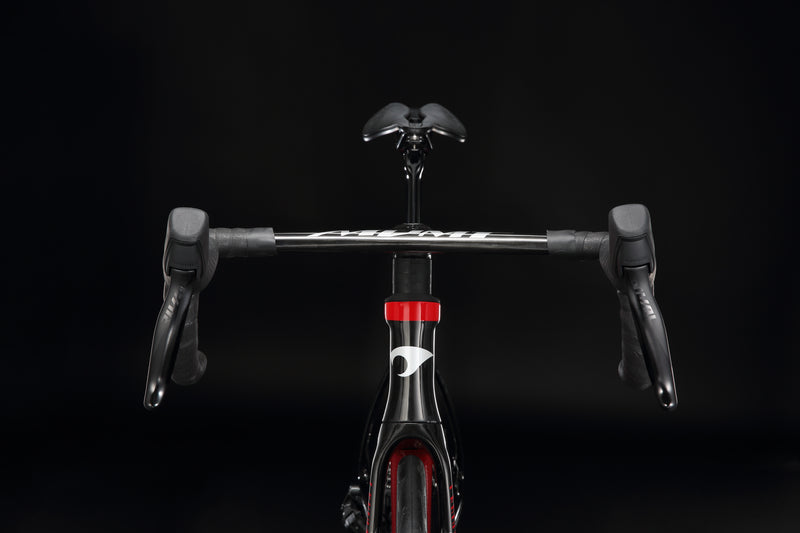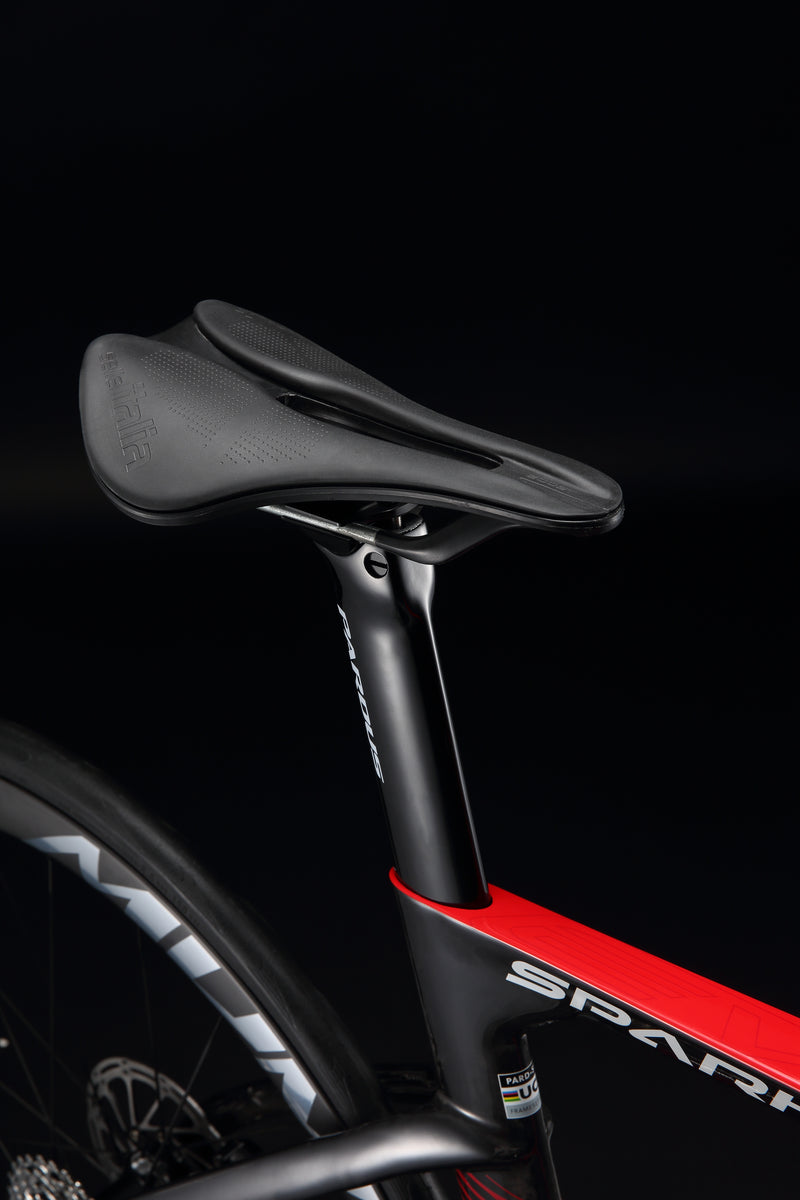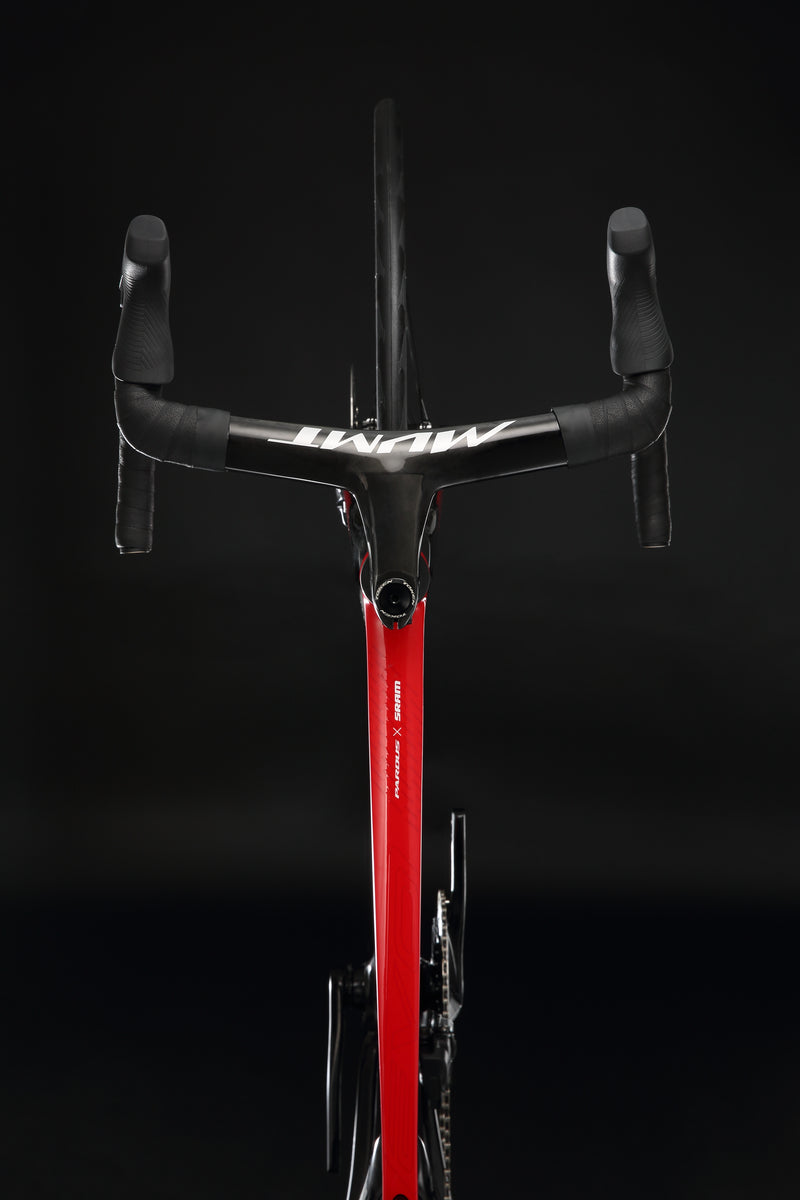 SPARK EVO is Pardus' new generation aerodynamics road bike, it is a brand new evolution of the Spark series.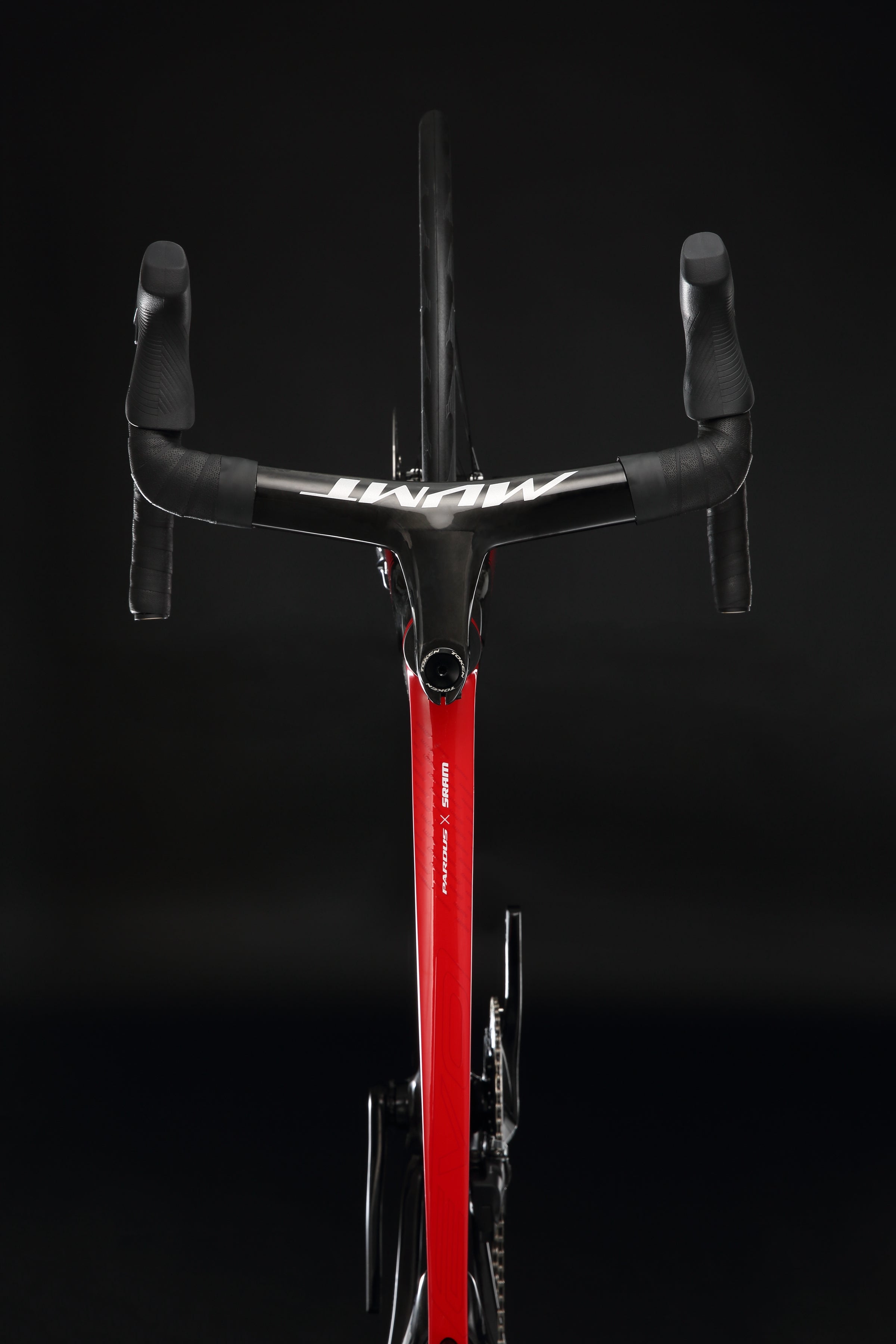 Extreme Aerodynamics
PARDUS and the Chinese national team jointly conducted wind tunnel tests, and the new SPARK EVO has a newly optimized aerodynamic tubular design. A longer cross-sectional design, with the cross-section in the shape of water droplets, interprets Pardus' latest understanding of aerodynamics. The joint position of the fork and frame is more integrated, effectively handling the turbulence generated by the fork, frame, and wheels, taking aerodynamic efficiency to a higher level.
Exceptional Stiffness
The efficient pedaling output is the most outstanding feature of the new SPARK EVO. It is developed through the actual using experience of professional riders. The new SPARK EVO has a 25% increase in pedaling rigidity compared to the previous generation. It is the key to standing out on the field.
Racing Geometry
SPARK series was born for racing and has a radical riding style. The overall small STR is the major feature of SPARK EVO. This makes it easy to maintain a low center of gravity in riding posture.
The new SPARK EVO has changed the design of the head cover shape, and appropriately increased the STACK while adjusting the overall geometric, maintaining an aggressive riding posture and improving comfort. With the addition of XXS size, in which the REACH is only 365mm, it is more user-friendly for small heights.
Inner Cable Routing
MVMT M-Silver A-Type integrated handlebar to achieve full inner cable routing, with a flat aerodynamic cross-section, and the forward-extended styling design further enhances the wind-breaking effect.
Specification 
Frame: SPARK EVO, HMS-EPS + Carbon,2×142mm thru-axle, Flat Mount Disc, 

collaboration with SRAM.

Fork: SPARK EVO, HS-HPT Carbon,12×100mm thru-axle, Flat Mount Disc
Shifter: SRAM RIVAL eTap AXS 12-speed
Front derailleur: SRAM RIVAL eTap AXS D1,braze-on,2×12 speed
Rear derailleur: SRAM RIVAL eTap AXS D1 12 speed
Crank: SRAM RIVAL D1,48-35T,DUB
Cassette: SRAM RIVAL XG-1290,10-33T,12 speed
Chain: SRAM RIVAL D1,12speed,Power Lock
Bottom Bracket: SRAM BB DUB PF30 ROAD68
Brake: SRAM RIVAL e-Tap AXS D1 Hydraulic Disc Brake
Brake Rotor: SRAM RT-Centerline-A2,Center Lock,F & R160mm
Front-wheel: MVMT M-SILVER R45, Carbon Tubeless Ready, CenterLock,45mm rim depth,100×12mm thru-axle
Rear-wheel: MVMT M-SILVER R45, Carbon Tubeless Ready, CenterLock,45mm rim depth, XDR 12S Freehub,142×12mmthru axle
Tire: Continental Grand Sport Race700X25C Tubeless Ready
Saddle: Selle Italia, Boost 120g
Handlebars: MVMT Aerodynamic, HS-HPT Carbon, Integrated Handlebar,58mm reach,129mm drop
Seat Post: PARDUS SPARK EVO, HS-HPT Carbon,-20mm offset,350mm, Di2-compatible
Weight: 7.8kg in the M size
| | | | | | | |
| --- | --- | --- | --- | --- | --- | --- |
| SIZE | XXS | XS | S | M | L | XL |
| Reach(R) | 365mm | 372mm | 379mm | 383mm | 387mm | 398mm |
| Stack(S) | 497mm | 507mm | 517mm | 527mm | 540mm | 565mm |
| STR | 1.36 | 1.35 | 1.36 | 1.37 | 1.39 | 1.41 |
| Bike standover height | 733.7mm | 743mm | 754.5mm | 764.3mm | 779.1mm | 803mm |
| Top tube(B) length(Horizontal) | 493.5mm | 507.9mm | 519.5mm | 530.2mm | 541.8mm | 562.1mm |
| Wheel bass (E) | 958.3mm | 968.5mm | 970.1mm | 972.8mm | 977.1mm | 995.5mm |
| Chainstay length(F) | 410mm | 410mm | 410mm | 410mm | 410mm | 410mm |
| Front center(G) | 559.9mm | 570.1mm | 571mm | 573.7mm | 577.4mm | 595.7mm |
| BB drop(H) | 74mm | 74mm | 72mm | 72mm | 70mm | 70mm |
| Seat tube length(I) | 453.8mm | 463.7mm | 473.6mm | 484mm | 497.4mm | 522mm |
| Head tube length(J) | 90mm | 100.5mm | 109.8mm | 118.5mm | 132.5mm | 158.6mm |
| Fork offset (K) | 50mm | 50mm | 45mm | 45mm | 45mm | 45mm |
| Fork length (L) | 370mm | 370mm | 370mm | 370mm | 370mm | 370mm |
| Trail | 58.7mm | 58.7mm | 58.7mm | 58.7mm | 58.7mm | 58.7mm |
| Stem length | 80mm | 90mm | 100mm | 110mm | 110mm | 120mm |
| Handlebar width | 380mm | 380mm | 380mm | 400mm | 420mm | 420mm |
| Crank length ↓ |   |   |   |   |   |   |
| DURA-ACE  | 167.5mm | 167.5mm | 170mm | 170mm | 172.5mm | 172.5mm |
| ULTEGRA/105 | 165mm | 165mm | 170mm | 170mm | 172.5mm | 172.5mm |
| RIVAL AXS | 165mm | 165mm | 170mm | 170mm | 172.5mm | 172.5mm |
| Seat tube offset | 0mm | 0mm | 0mm | 0mm | 0mm | 0mm |
Size Chart:
XXS: 150-160 cm
XS:   157-166 cm
S:     163-173 cm
M:    168-178 cm
L:      176-186 cm
The frame 
collaboration with SRAM