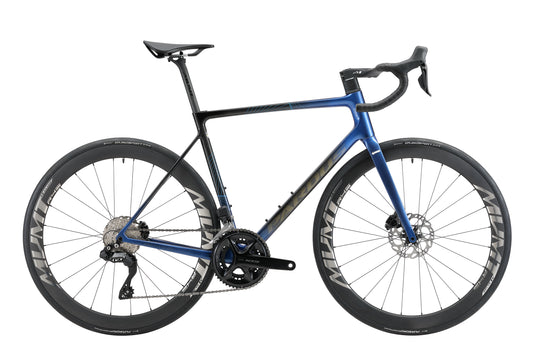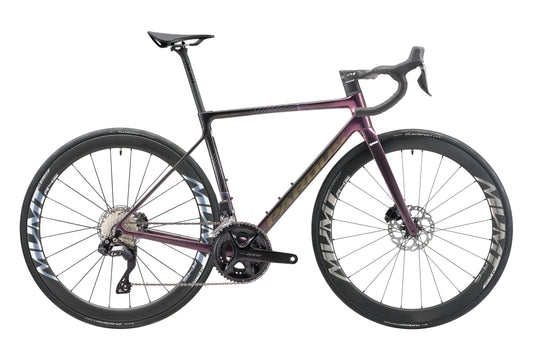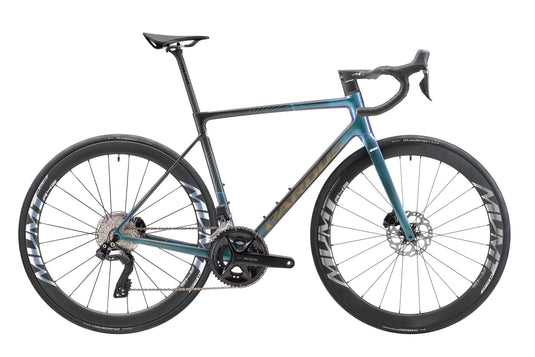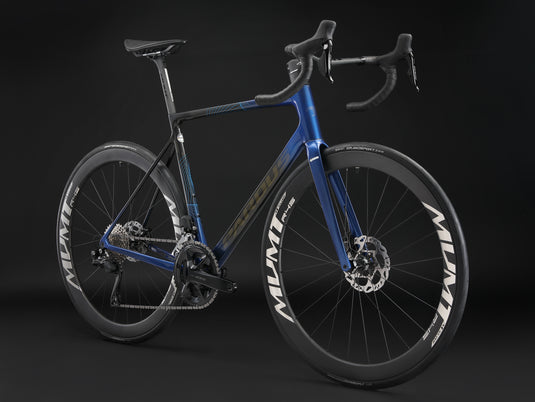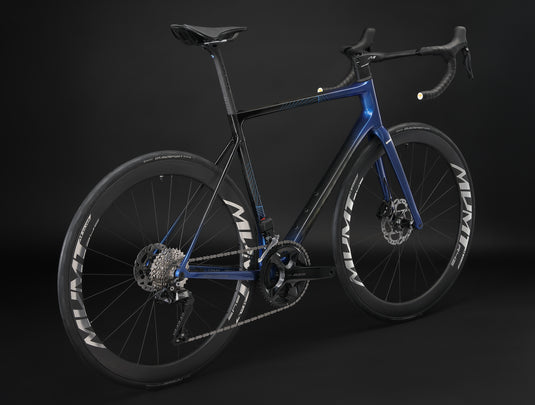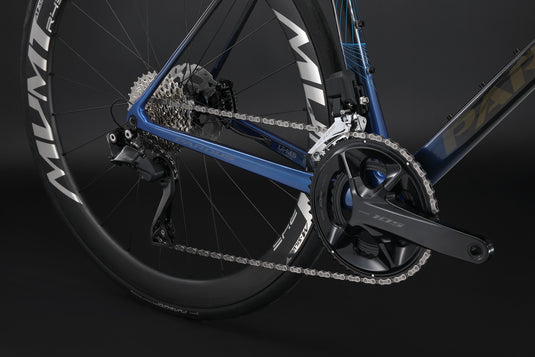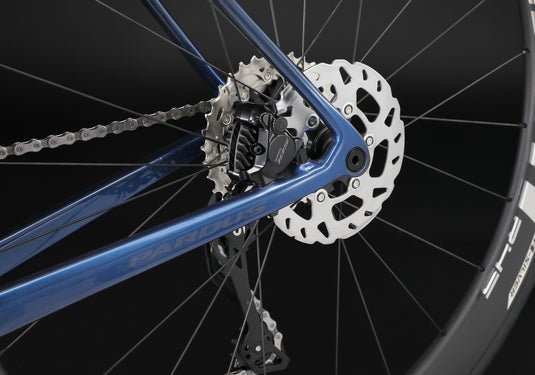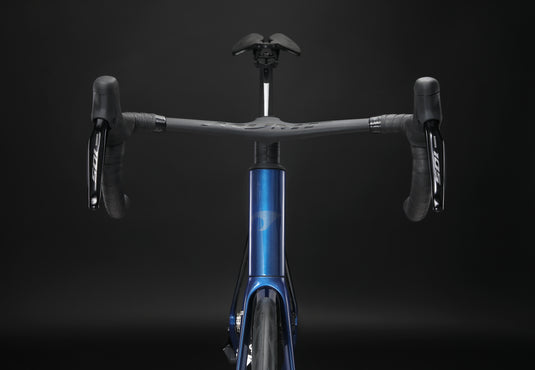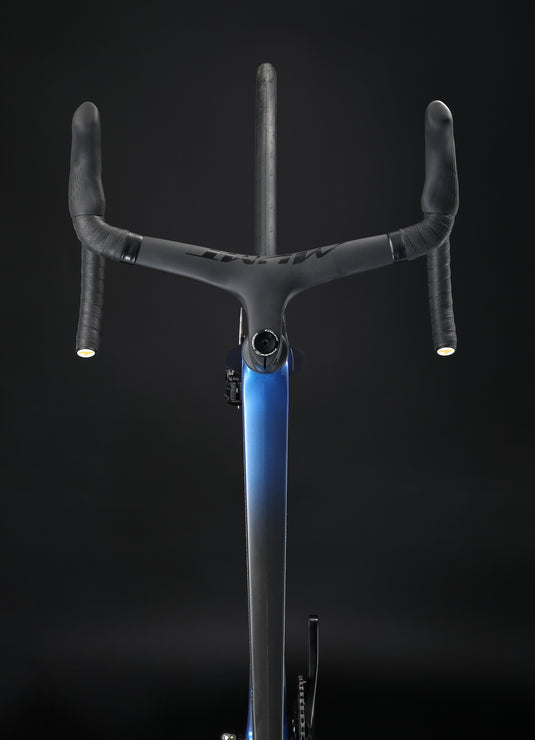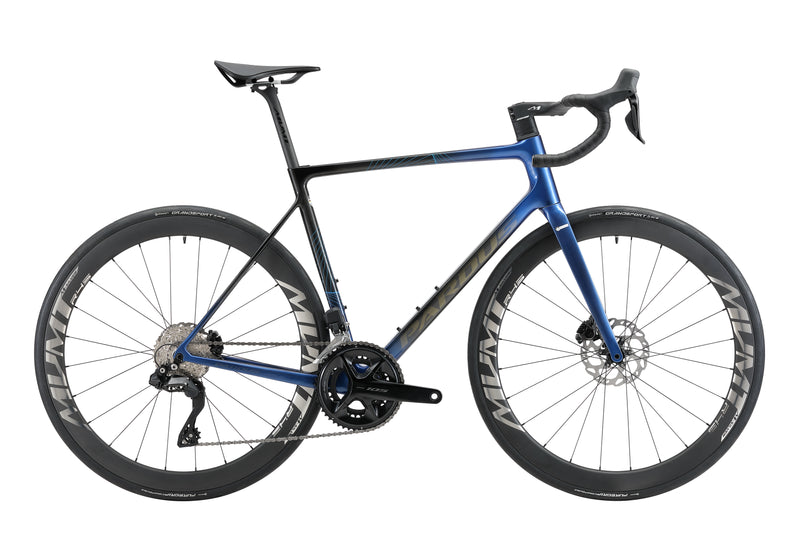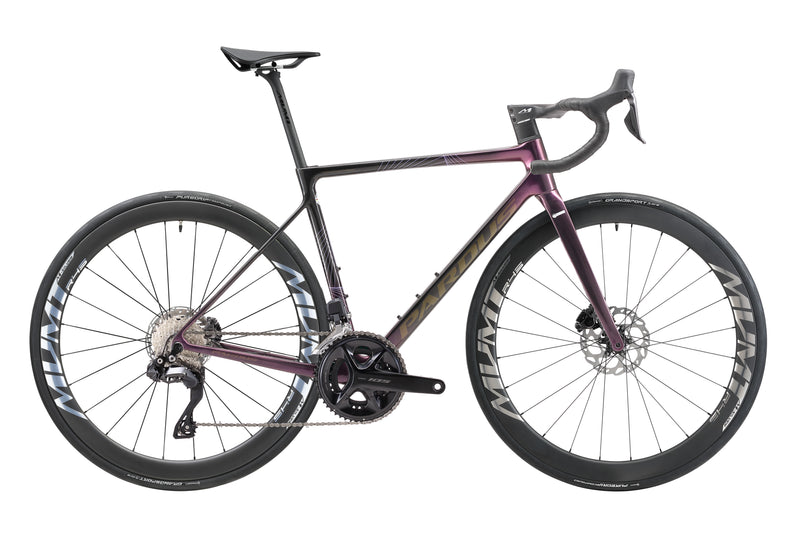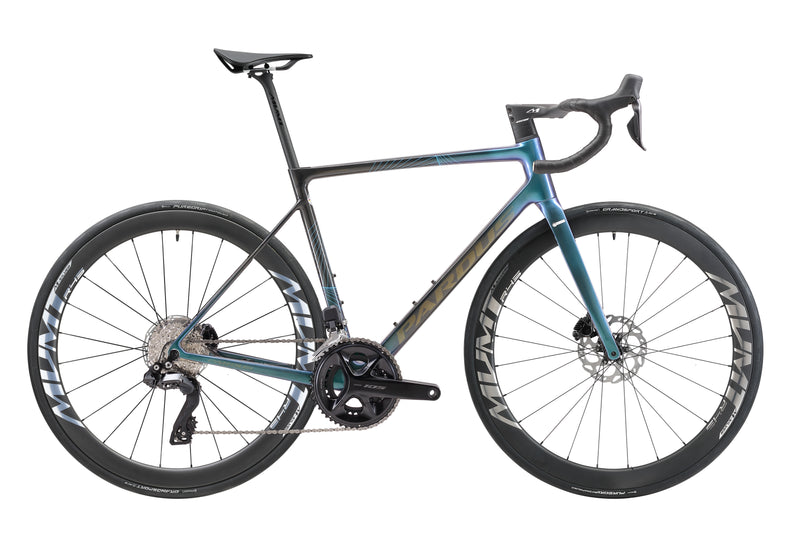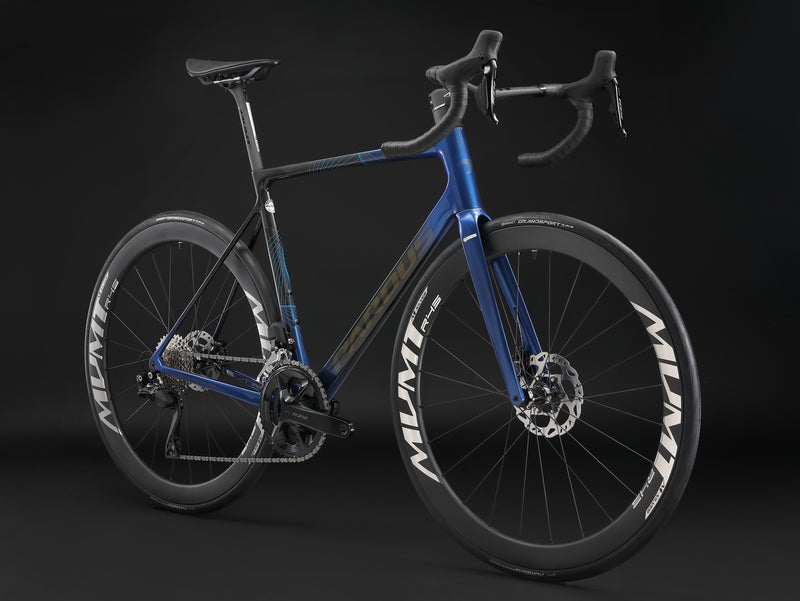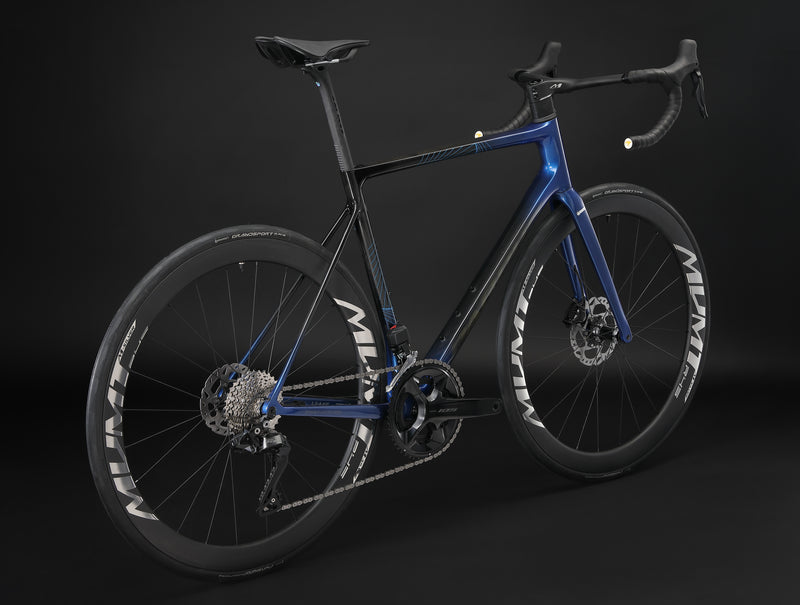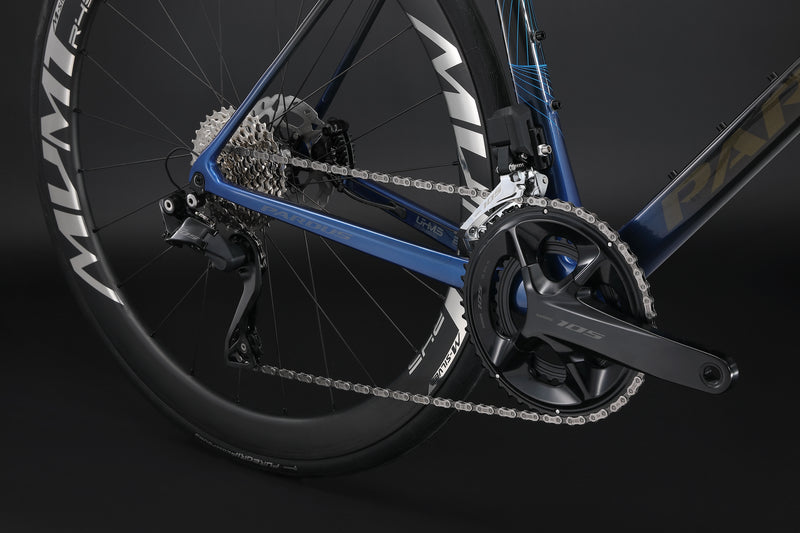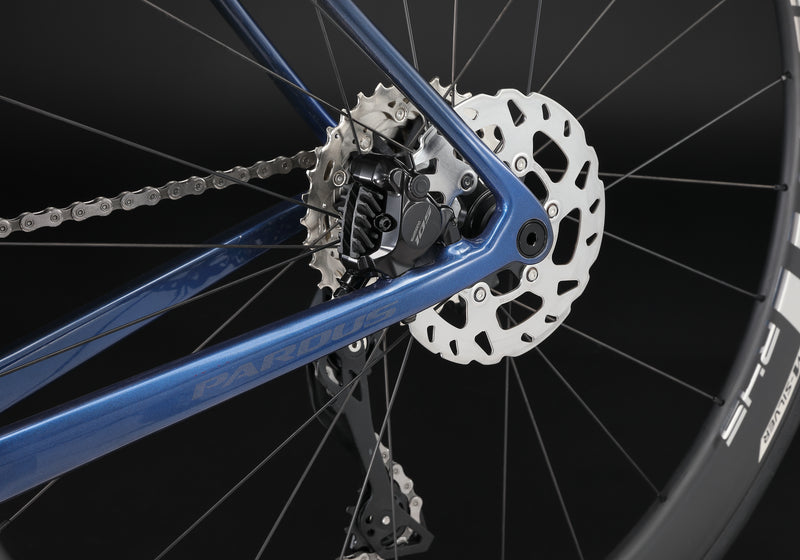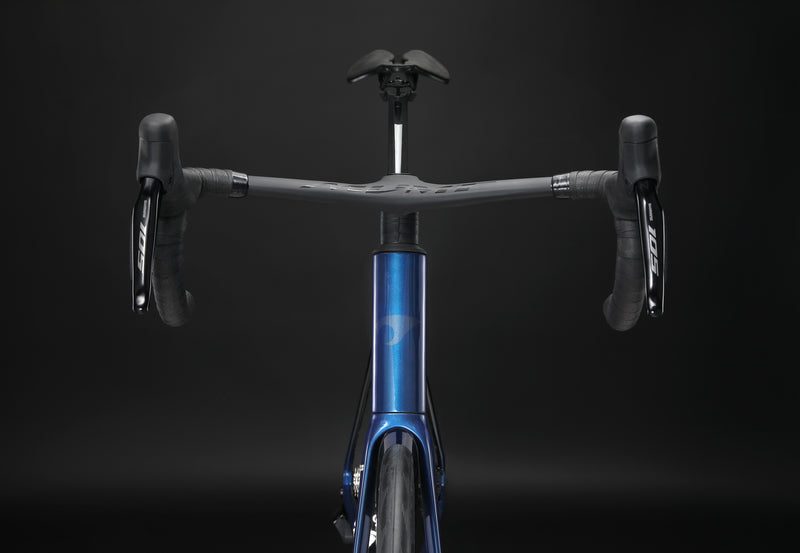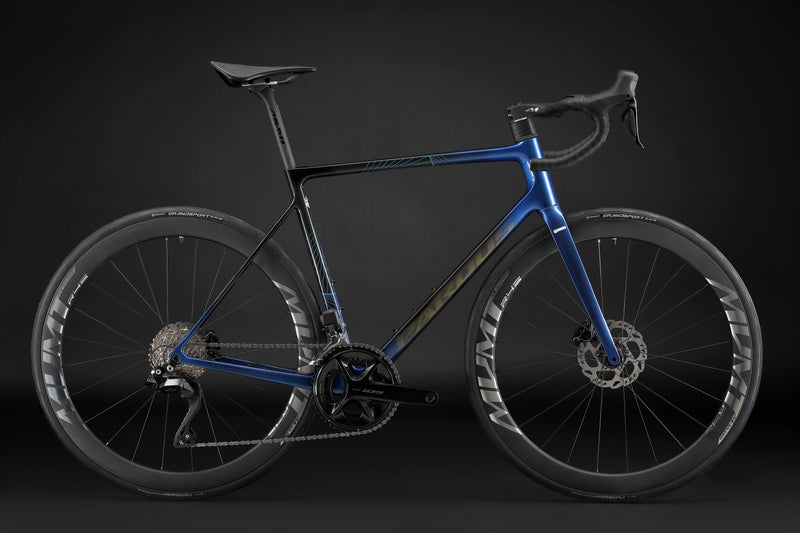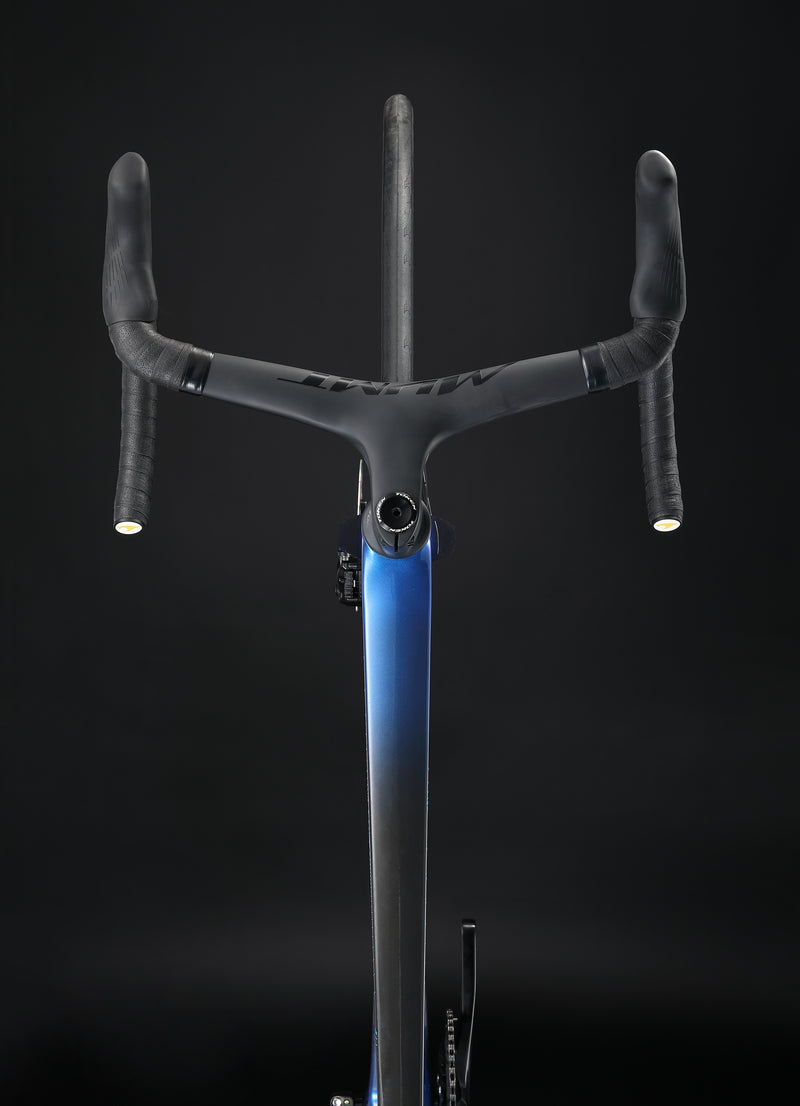 Light, Fast, Fearless of Any Challenge
From the rugged mountain roads to the wide and flat coastal routes, whether it's professional racing or weekend cycling, the versatile ROBIN can easily handle it all. 
ROBIN EVO is a flagship-level road bike that integrates light weight and high rigidity through PARDUS' top-level carbon fiber technology. The whole hidden inner cable system makes the appearance more neat and refined.
Extremely Light M-Size Frame Weighs Only 740 Grams
PARDUS uses the highest level of UHMS-grade carbon fiber material, which includes 10% of Japan's Toray T1100 carbon fiber, 60% of high-strength T800 carbon fiber, and high modulus M40 carbon fiber. The M-size frame weighs only 740 grams and the fork weighs only 290 grams through the precise use of EPS+ foam disappearance molding technology and carbon cloth cutting and stacking.
Advanced Aerodynamics
The MTMT M-SILVER B-Type integrated handlebar is the result of PARDUS' deeply cultivated field bike experiments. Its upward and forward design minimizes wind resistance and weighs only 295 grams.
Flexible Geometry for All
The frame geometry is flexible and compatible with different heights, with each size adjusted specifically for riders of different heights. The smaller sizes use a larger Offset fork to control the Trail value, ensuring that both the minimum and maximum sizes maintain the necessary flexibility.
Integrated and Sleek Hidden Inner Cables
The whole hidden inner cable system gives a clean and refined appearance and is equipped with TOKEN's Cable Box system, achieving a completely hidden inner cable design.
Features
Shimano 105 Di2 12-Speed : The Pardus Robin EVO incorporates the cutting-edge Shimano 105 Di2 12-speed drivetrain system. Experience unparalleled precision and efficiency as you effortlessly glide through gears with the push of a button, enabling seamless transitions and maximizing your power output.
Ultralight Carbon Fiber Climbing Frame: The Robin EVO boasts an ultralight carbon fiber climbing frame that defies expectations. Crafted using T1100 carbon fabric from Toray Industries, and employing UHMS-EPS carbon fiber molding technology, this frame delivers exceptional strength, stiffness, and weight savings.

MVMT Carbon Fiber 45mm Wheelset: Pardus's MVMT carbon fiber wheelset, featuring a 45mm rim height, complements the Robin EVO's performance with aerodynamic excellence. These wheels are meticulously crafted in-house, striking the perfect balance between weight reduction and aerodynamic efficiency, resulting in enhanced speed, stability, and acceleration.

Sleek and Aerodynamic Design: The Robin EVO's sleek and aerodynamic design is a feast for the eyes and the wind. The purposeful shaping reduces drag, optimizing your performance and efficiency. Ride with confidence, knowing that every pedal stroke propels you further and faster.

Unrivaled Performance and Power-to-Weight Ratio: The culmination of the Robin EVO's lightweight construction, cutting-edge components, and aerodynamic prowess results in an unrivaled performance and power-to-weight ratio. Revel in the sensation of effortlessly converting your power into speed, conquering any ascent or sprint with conviction.

Exclusivity and Prestige: The Pardus Robin EVO represents the pinnacle of cycling excellence, offering an exclusive and prestigious ownership experience. Join the ranks of discerning cyclists who demand the absolute best in performance, aesthetics, and technological innovation.

Elevate your cycling experience to extraordinary heights with the Pardus Robin EVO. Prepare to be immersed in a world of unrivaled performance, precision engineering, and unparalleled craftsmanship. Your cycling journey will never be the same again.
Specification 

Frame: ROBIN EVO, UHMS-EPS+ Carbon,12×142mm thru-axle, Flat Mount Disc

Fork: ROBIN EVO, UHMS-HPT Carbon,12×100mm thru-axle, Flat Mount Disc

Shifter: Shimano 105 R7170 12 speed




Front derailleur:Shimano 105 R7150,braze-on,2×12 speed

Rear derailleur: Shimano 105 R7150 12 speed,Max 34T

Crank: Shimano 105 R7100,50-34T

Cassette: Shimano 105 R7100,11-34T,12 speed

Chain: Shimano CN-M7100 QUICK-LINK

Bottom Bracket: BB30RL PF30

Brake: Shimano 105 R7170 Hydraulic Disc Brake

Brake Rotor:

Shimano RT70,Center Lock,F160mm,R140mm

Saddle: Selle Italia MODEL-X

Wheels: MVMT M-SILVER R45, Carbon Tubeless Ready, CenterLock,45mm rim depth, Front 100×12mm thru-axle, Rear HG 11S Freehub,142×12mm thru-axle

Tire: Continental Grand Sport Race 700X25C

Handlebar: MVMT M-SILVER B-TYPE Carbon, Integrated Handlebar,85mm reach,130mm drop

Seat Post: MVMT M-SILVER, Carbon,-15mm offset,350mmX27.2mm

Weight: 7.6 kg in M size
Size Chart:
XS: 156-167 cm

S: 164-175 cm
M: 168-180 cm
L: 178-188 cm
XL: 185-195cm
ROBIN EVO - Geometry
SIZE
XS
S
M
L
XL
Reach
368mm
378mm
384mm
388mm
397mm
Stack
505mm
527mm
548mm
565mm
584mm
STR
1.37
1.40
1.43
1.46
1.47
Bike standover height
737mm
754mm
775mm
794mm
807mm
Top tube length(Horizontal)
503mm
524mm
540mm
555mm
576mm
Head tube angle
71°
72.5°
73°
73°
73°
Seat tube angle
75°
74.5°
74°
73.5°
73°
Wheel base
968mm
977mm
980mm
990mm
1005mm
Chainstay length
410mm
410mm
410mm
410mm
410mm
Front center
569mm
578mm
581mm
590mm
605mm
BB drop
74mm
75mm
70mm
70mm
70mm
Seat tube length
471mm
486mm
503mm
522mm
533mm
Head tube length
100mm
120mm
140mm
160mm
180mm
Fork offset
50mm
50mm
45mm
45mm
45mm
Fork length
371mm
371mm
371mm
371mm
371mm
Trail
61mm
55mm
57mm
57mm
57mm
Stem length
100mm
100mm
110mm
110mm
120mm
Handlebar width
380mm
380mm
400mm
420mm
420mm
Crank length
165mm
170mm
170mm
172.5mm
172.5mm
Seat tube offset
-15mm
-15mm
-15mm
0mm
0mm
 
 
 
 
PARDUS Present