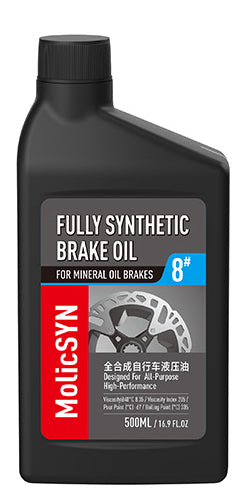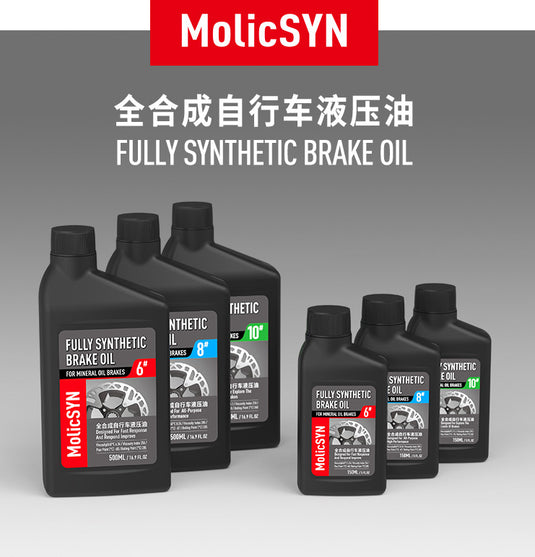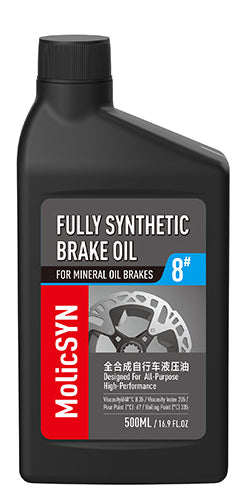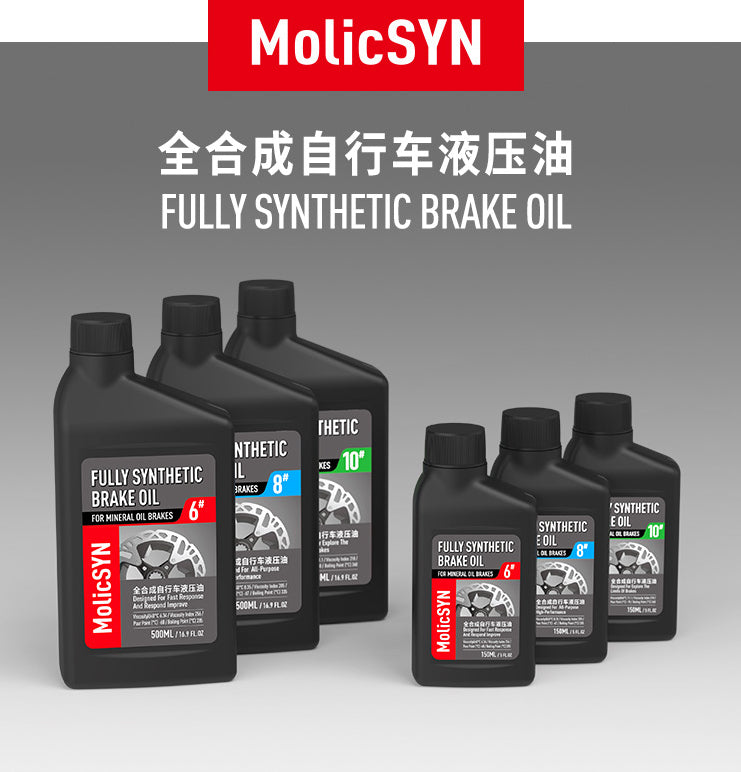 MolicSYN 8 Fully Synthetic hydraulic oil Brake Fluid Mineral Oil for Shimano
Why Choose MolicSYNTM Fully Synthetic Brake Oil

Fully synthetic brake oil was developed based on a mineral oil brake system.
Compared with mineral oil, MolicSYNTM Fully synthetic brake oil can improve anti-wear protection, and is applicable to a wider temperature range (-67 °C~360 °C), providing better thermal stability and oxidation stability, better thermal expansion coefficient and compression coefficient, and excellent foam inhibition performance. These performance advantages eventually translate into longer oil change cycles and brake service life than mineral oil.
Compared with the brake systems of other motor vehicles, the brake systems of bicycles tend to be lighter and smaller in design. The hydraulic system requires less oil and requires stable operation under more severe temperatures. These trends have put forward higher requirements for brake oil.
Acid Value And Sludge
A certain amount of impurities and organic acids will be generated during the long-term use of brake oil, which will cause a certain degree of corrosion to the system components. Therefore, the monitoring of the acid value of brake oil can reflect the control index of brake oil quality, and the acid value indicates the degree of oxidation deterioration of the oil.
According to the Method for the Determination of the Acid Value of Petroleum Products, conduct the test at 163 ℃ for 72 hours, and then use qualitative filter paper to analyze the amount of sludge produced after the test, and finally obtain MolicSYNTM The acid value of the full synthetic brake oil is maintained at a very low level, and no sludge is detected.
Features and advantages
MolicSYNTM Fully synthetic brake oil is a fully synthetic product developed based on the mineral oil brake system, which has a performance beyond that of mineral oil. Excellent high and low-temperature performance can operate stably in extremely harsh environments. The excellent anti-oxidation ability makes the brake system almost free from maintenance, and the full synthetic molecule ensures good antioxidation ability and system cleanness. Excellent anti-wear performance and oil film strength maximize the hydraulic transmission efficiency.
MolicSYNTM 8 is a product that focuses more on comprehensive performance. Its control style is designed to maintain the factory style. Its advantage is that users can adapt more easily. Choosing this product can enjoy the benefits and improvements brought by the full synthetic brake oil without changing the operating habits. As a fully synthetic brake oil, MolicSYN ™ 8. It inherits the excellent genes of this series of products in terms of performance, which is unmatched by the original mineral oil. 

*