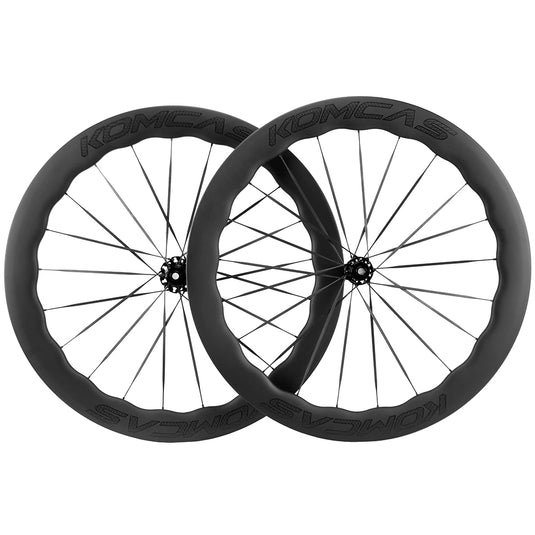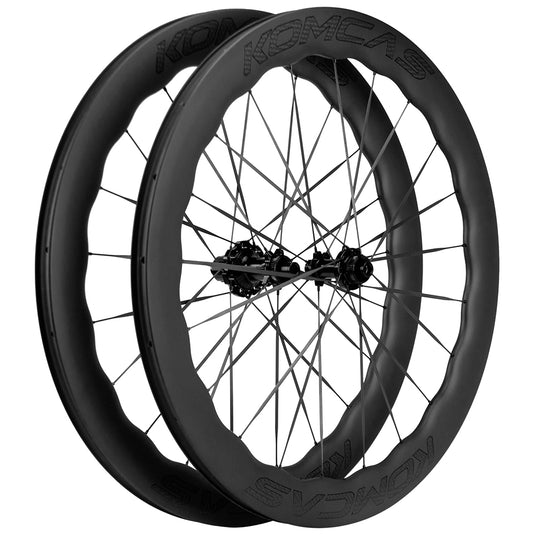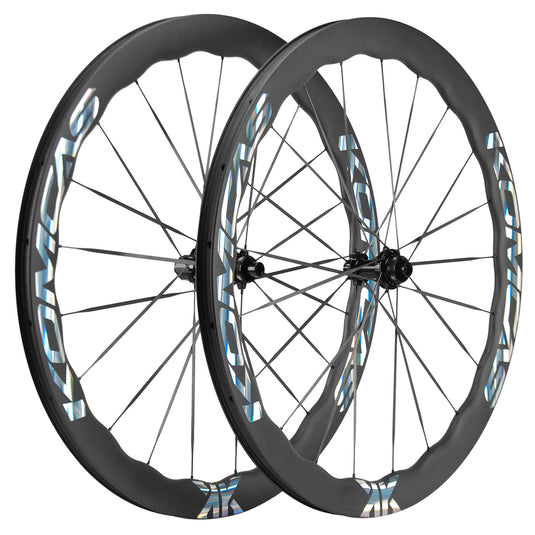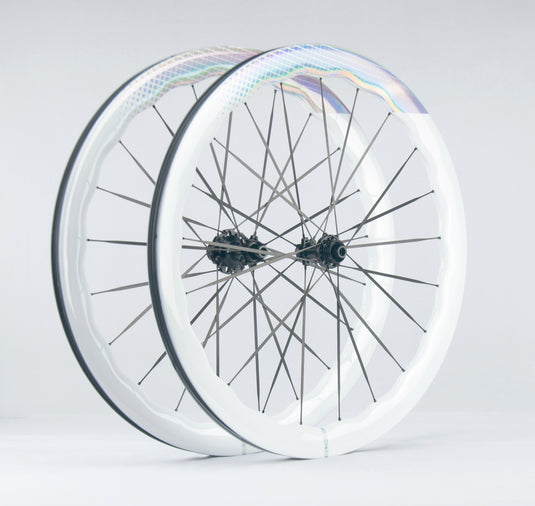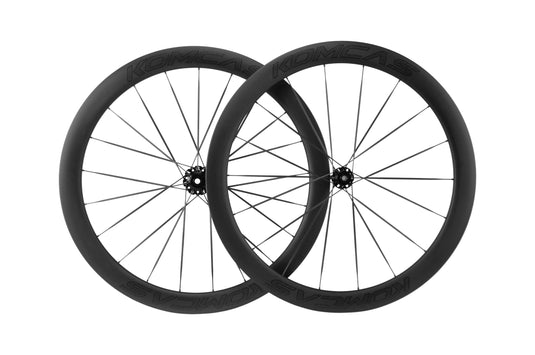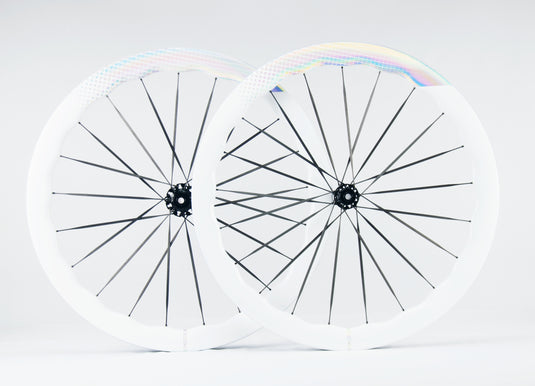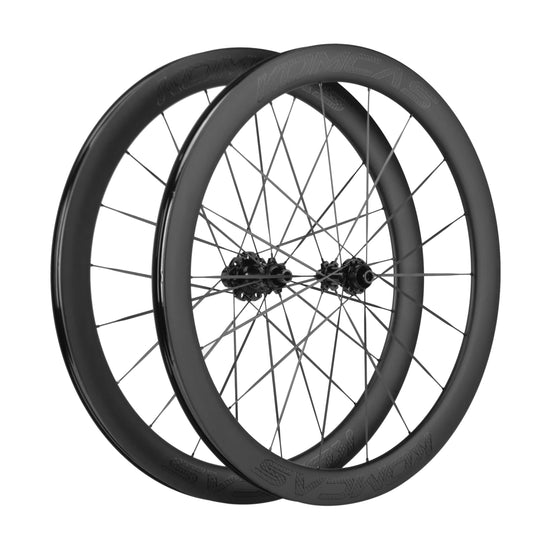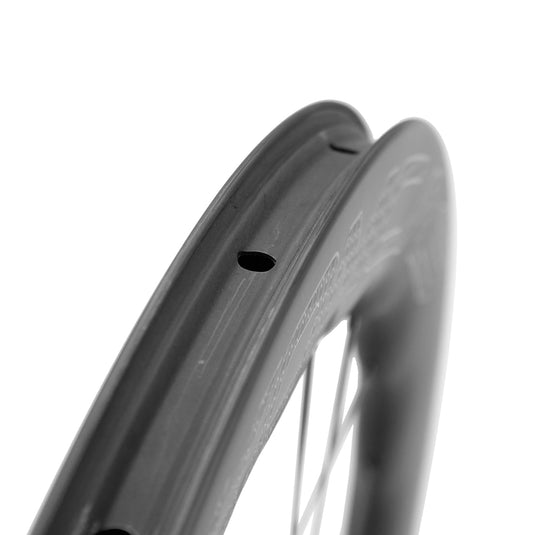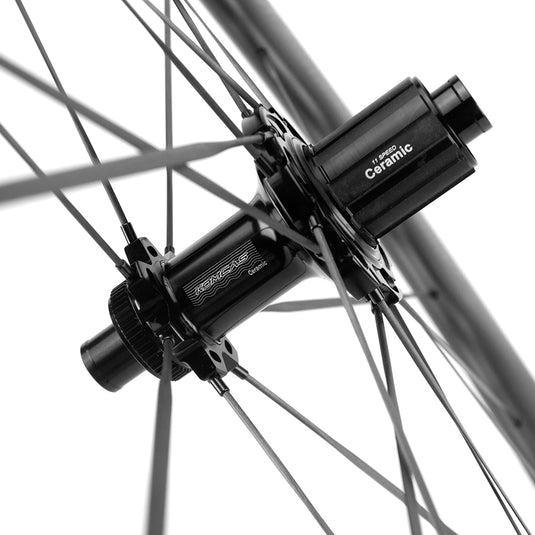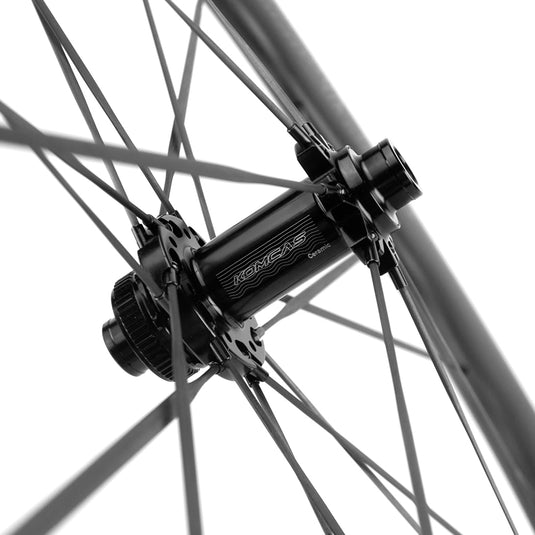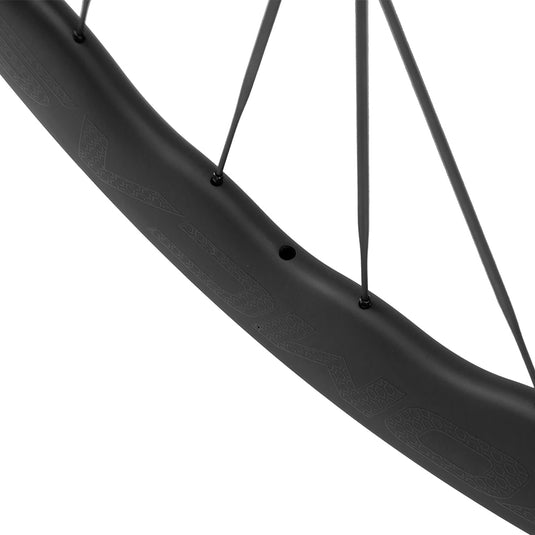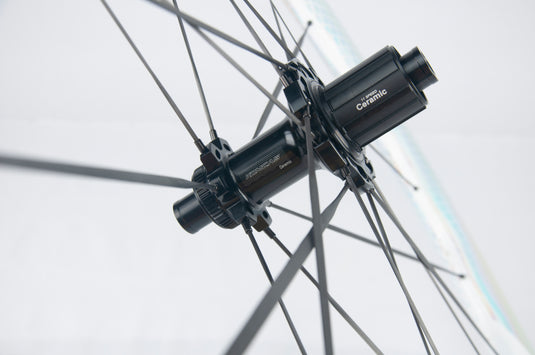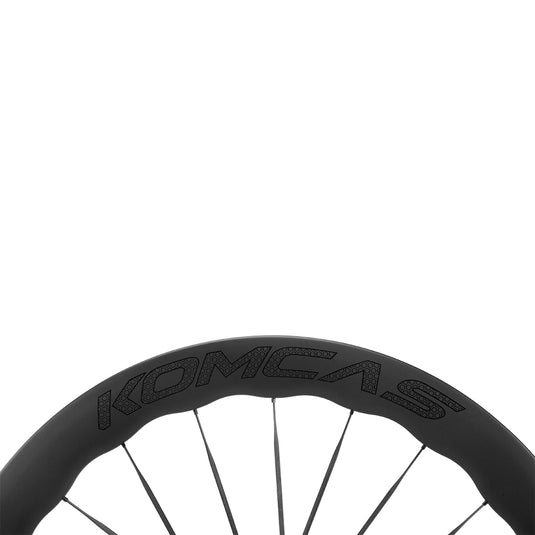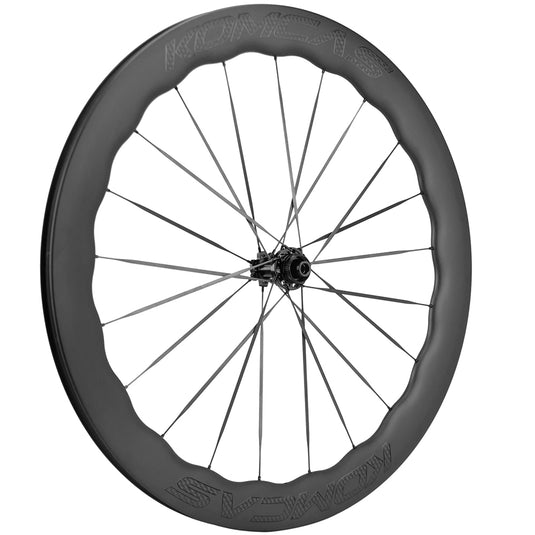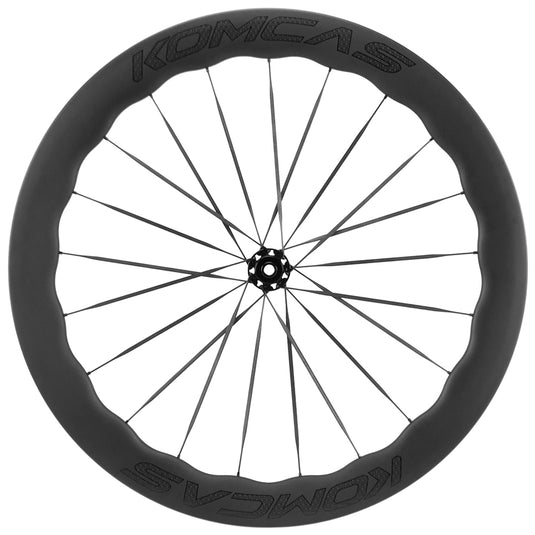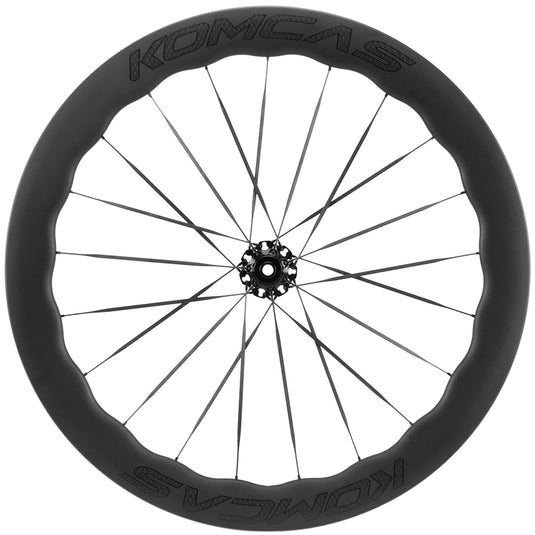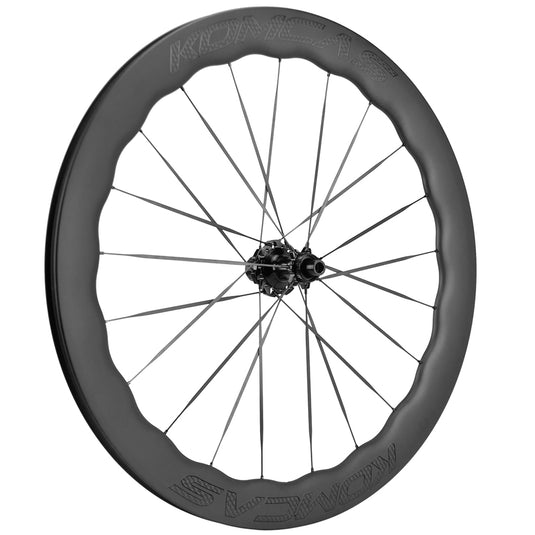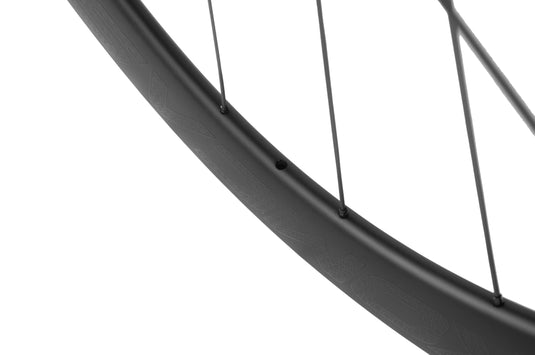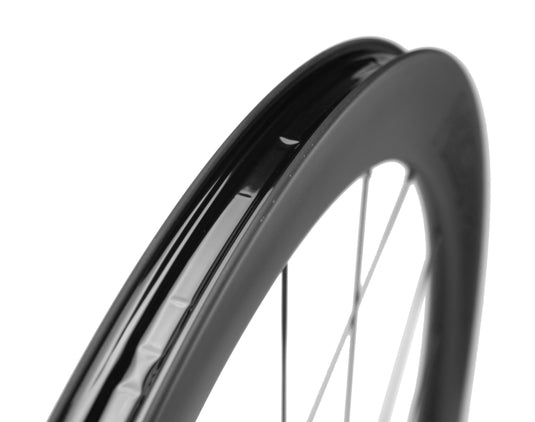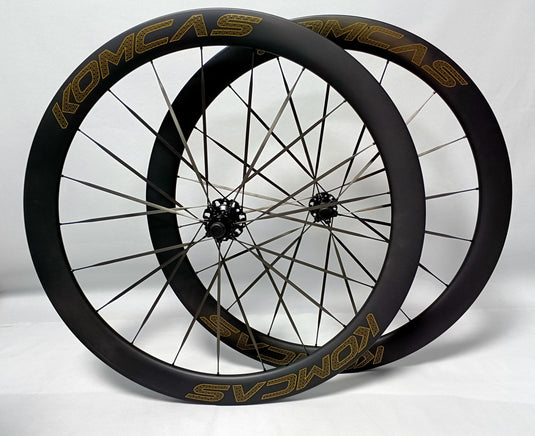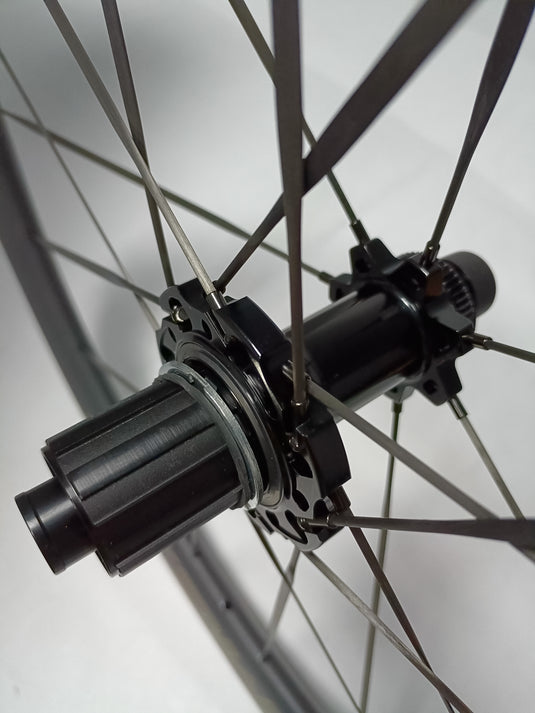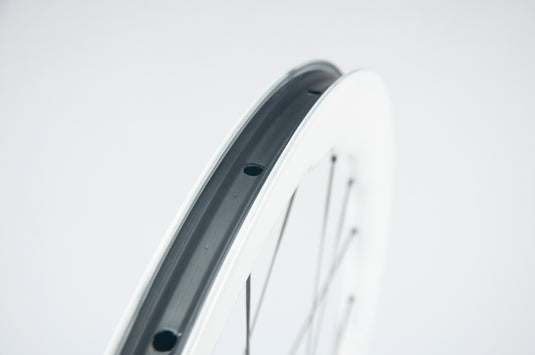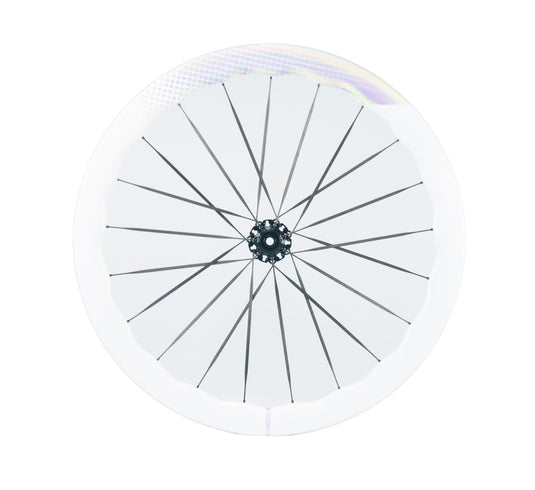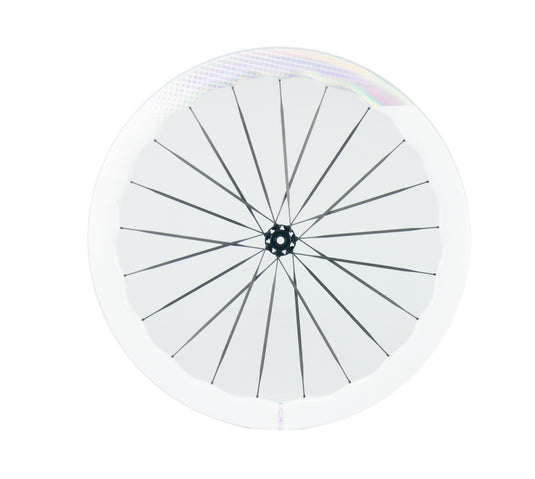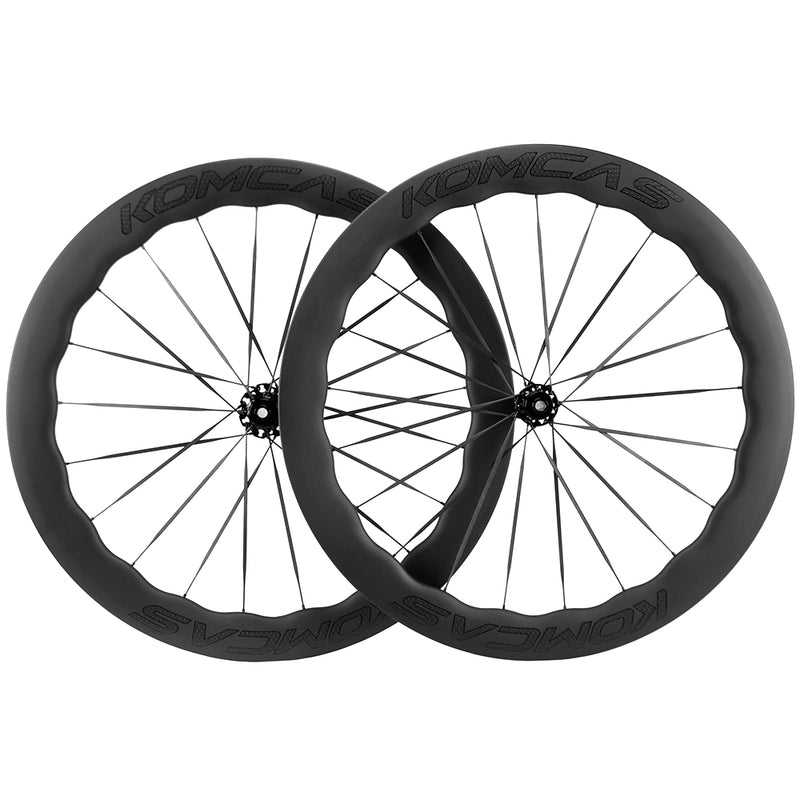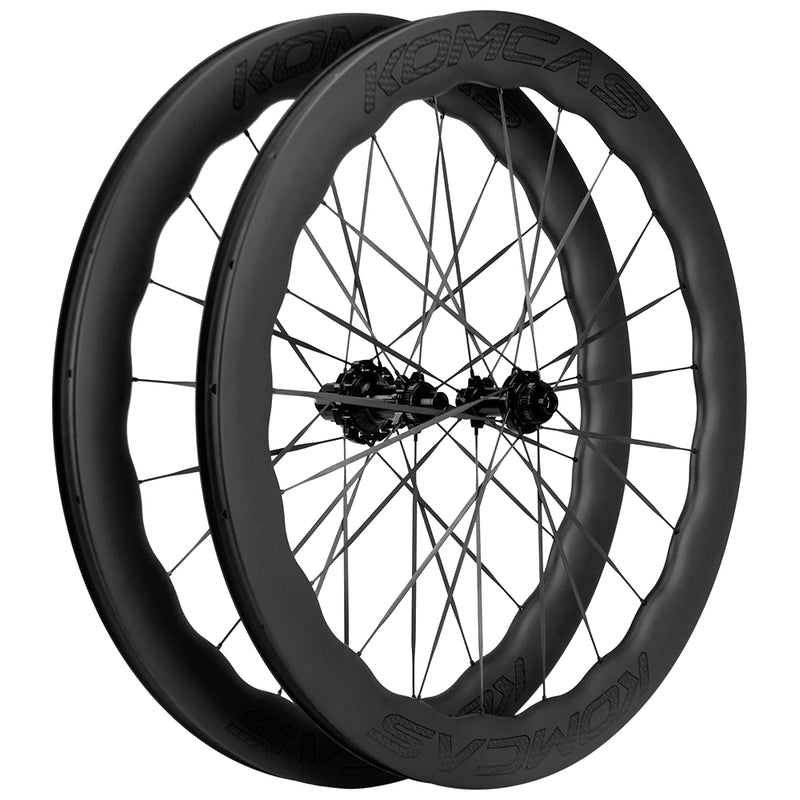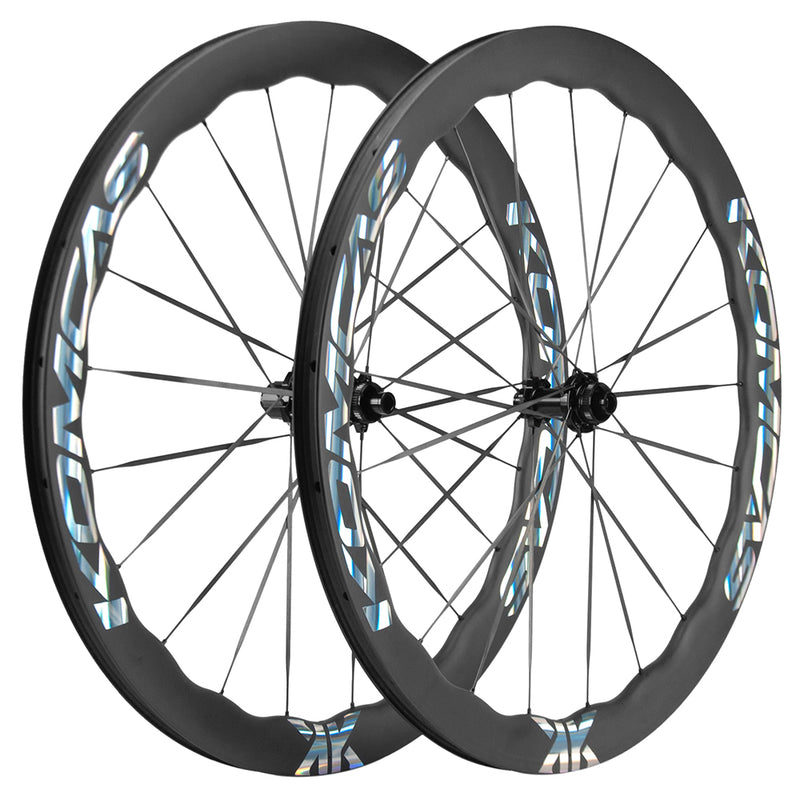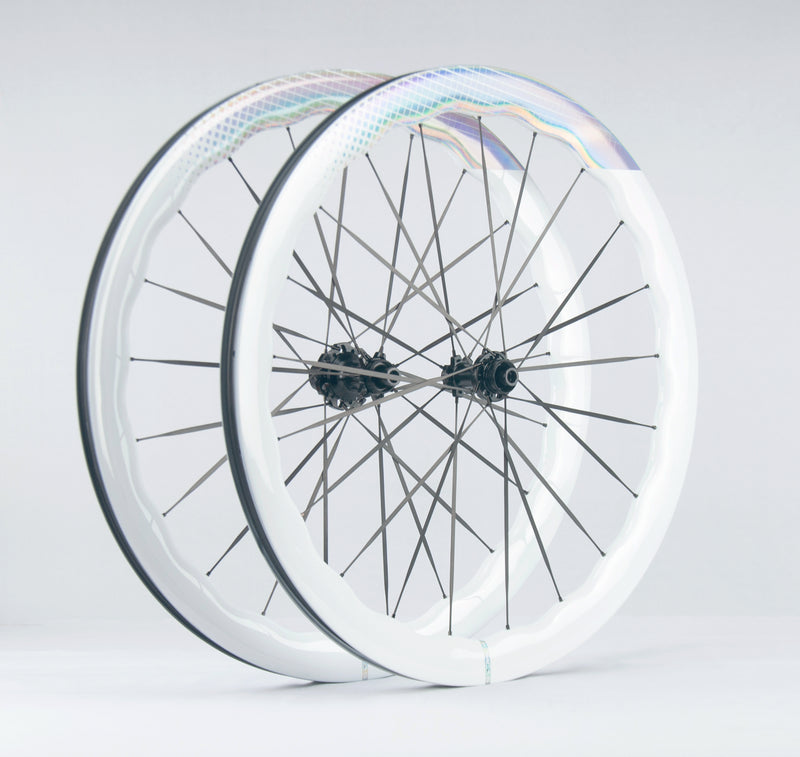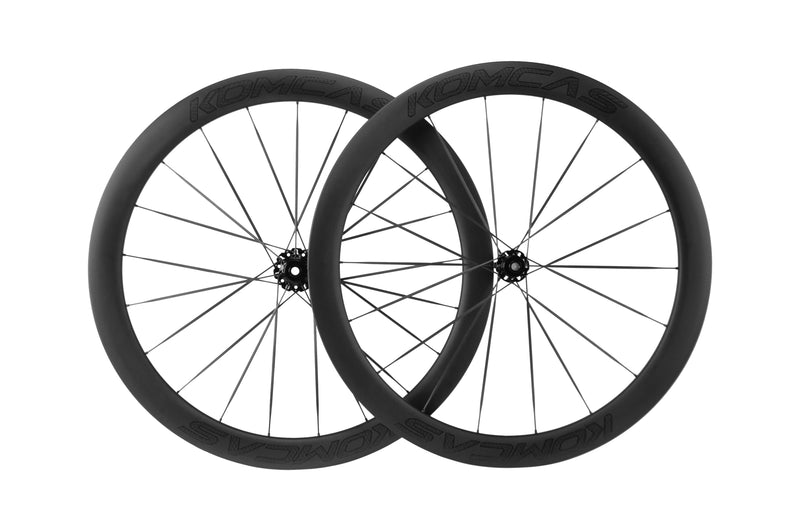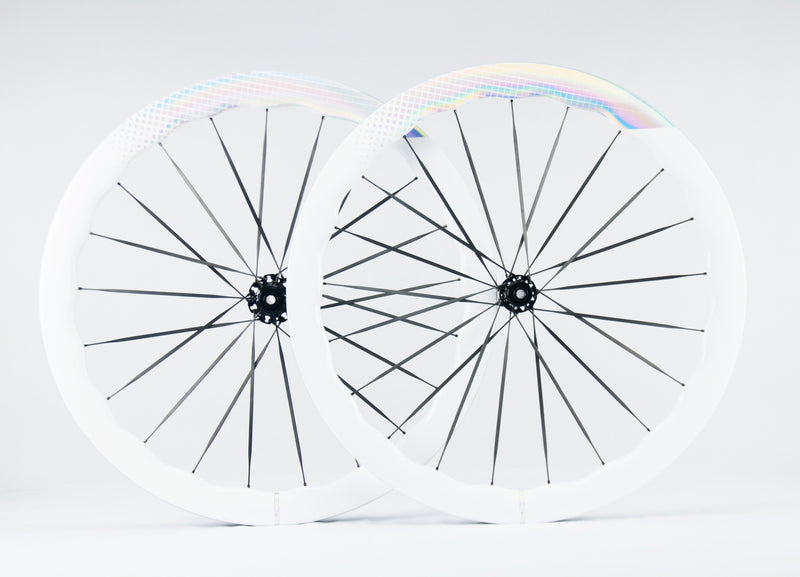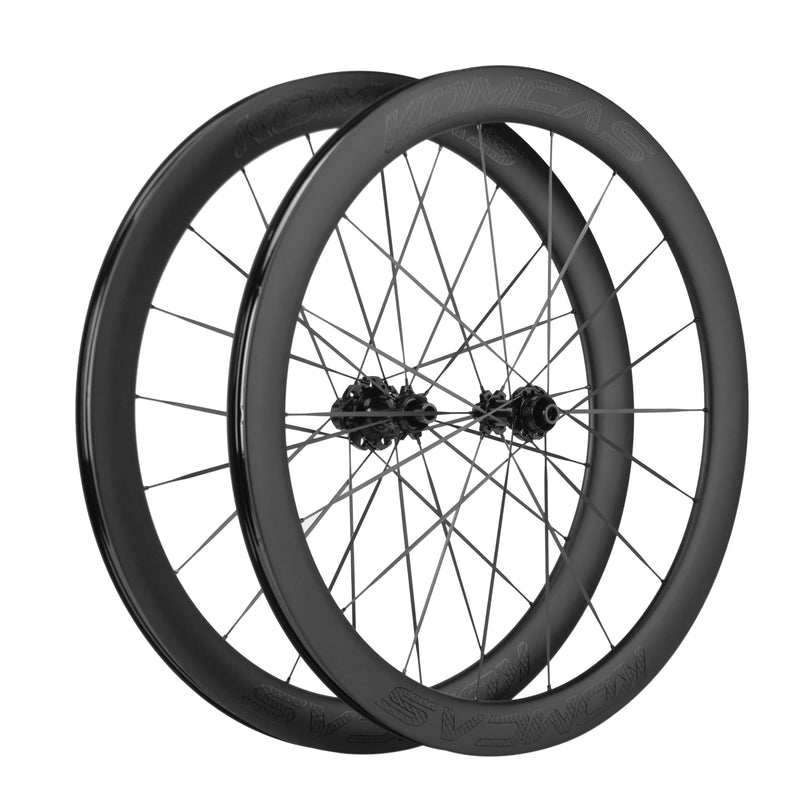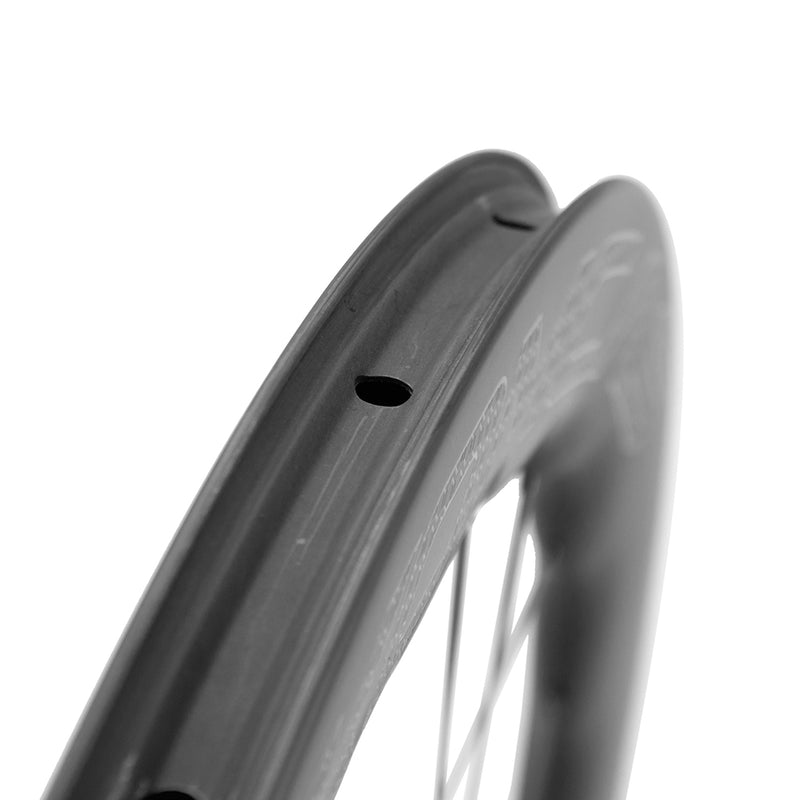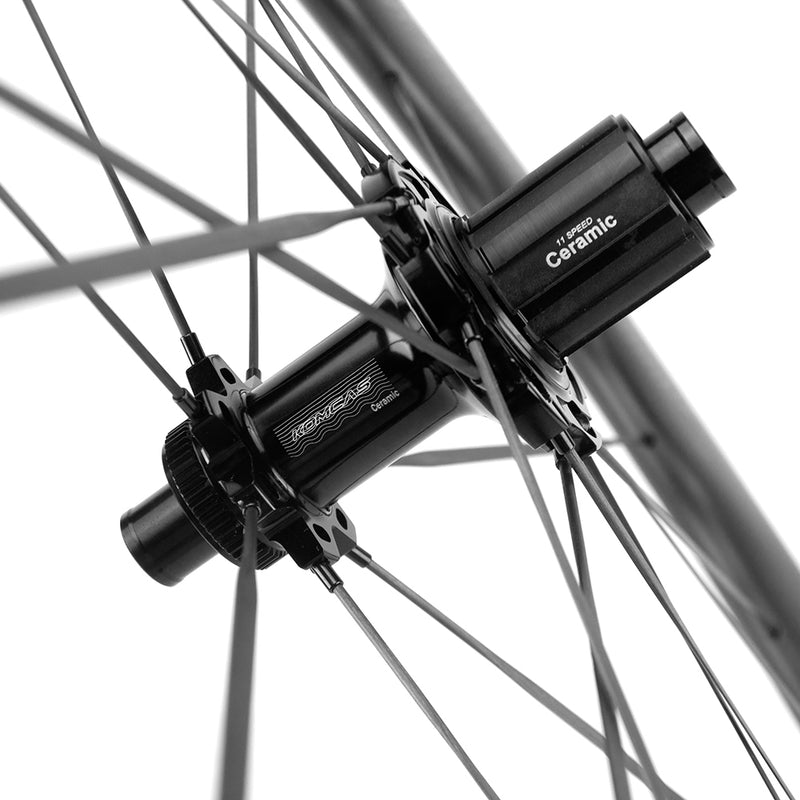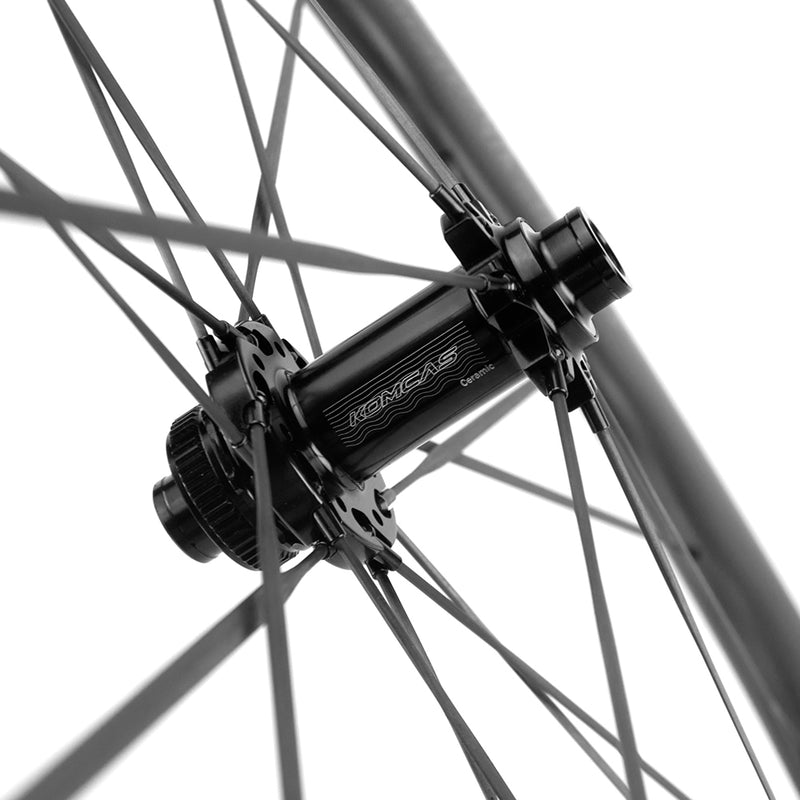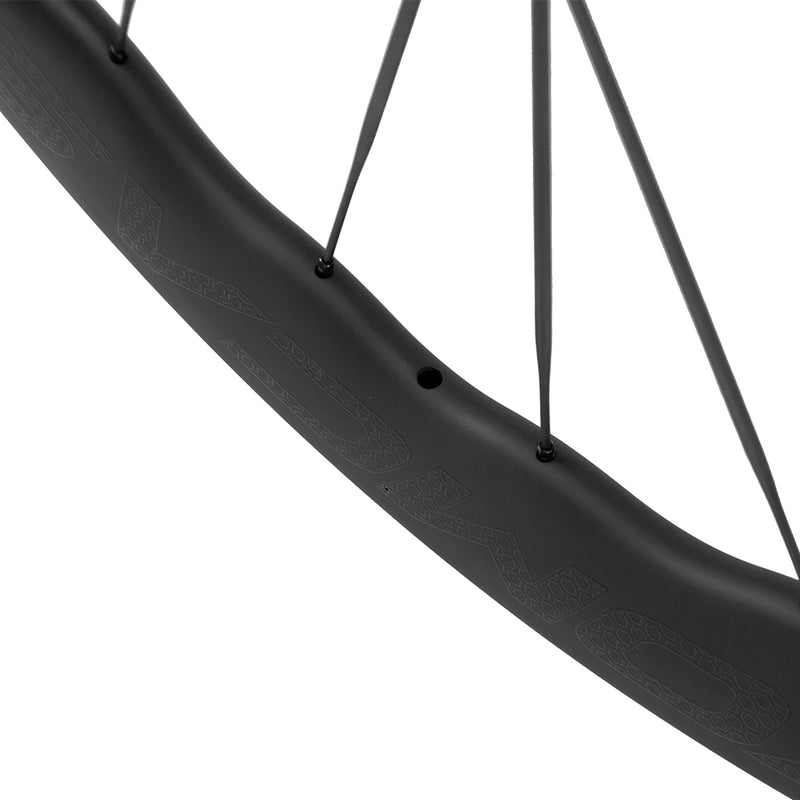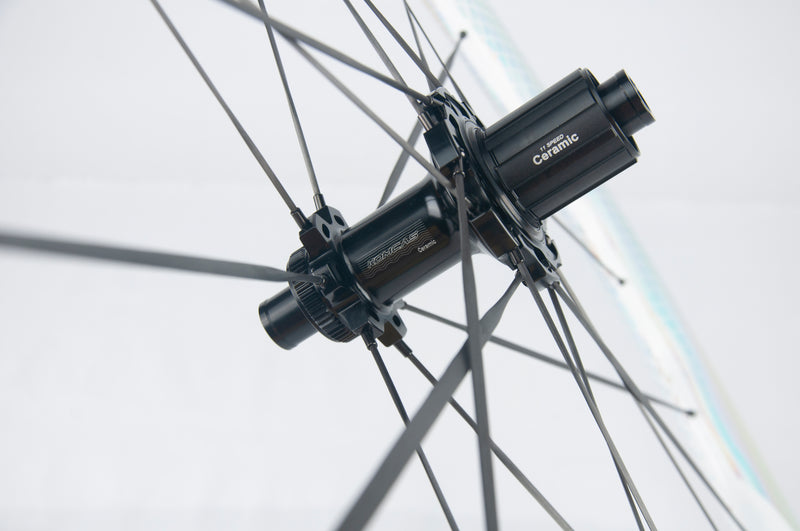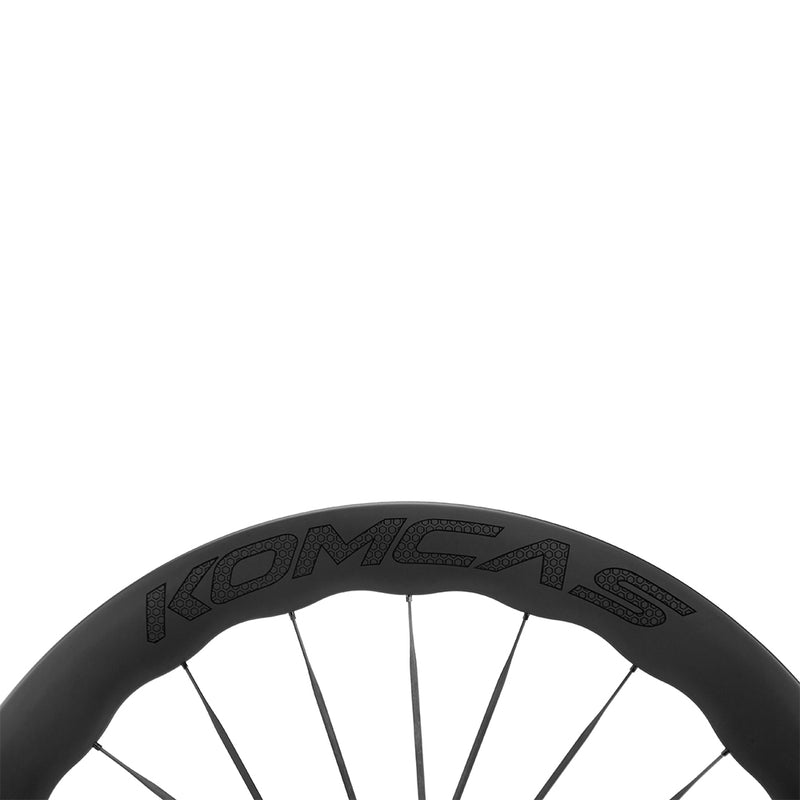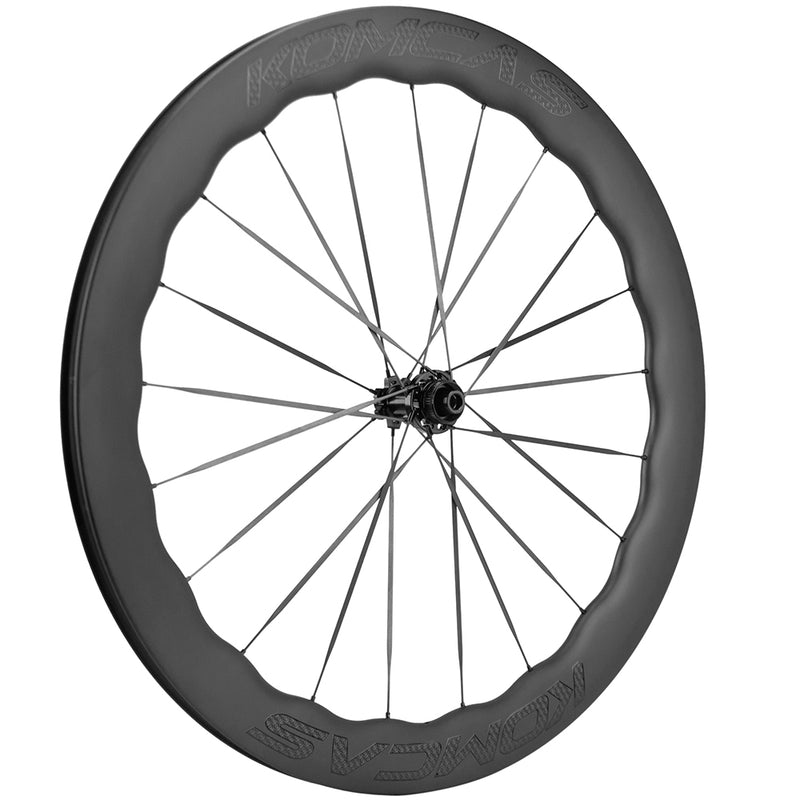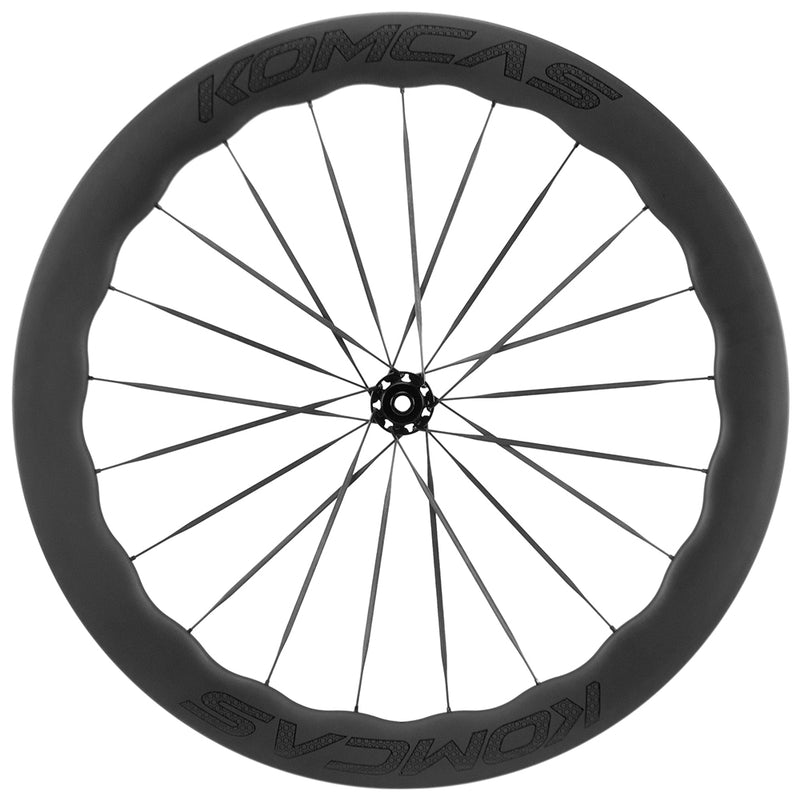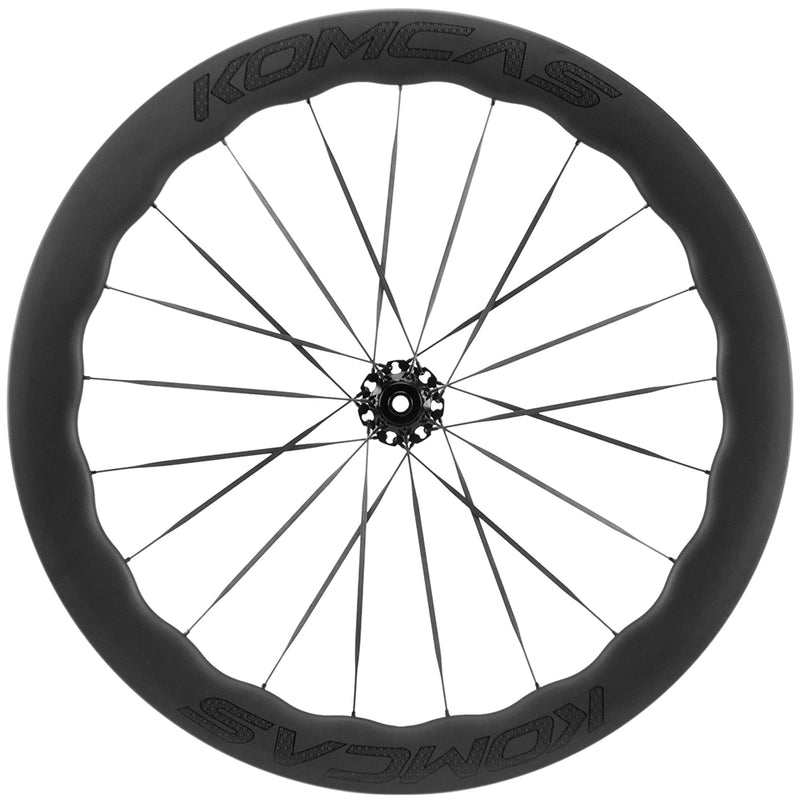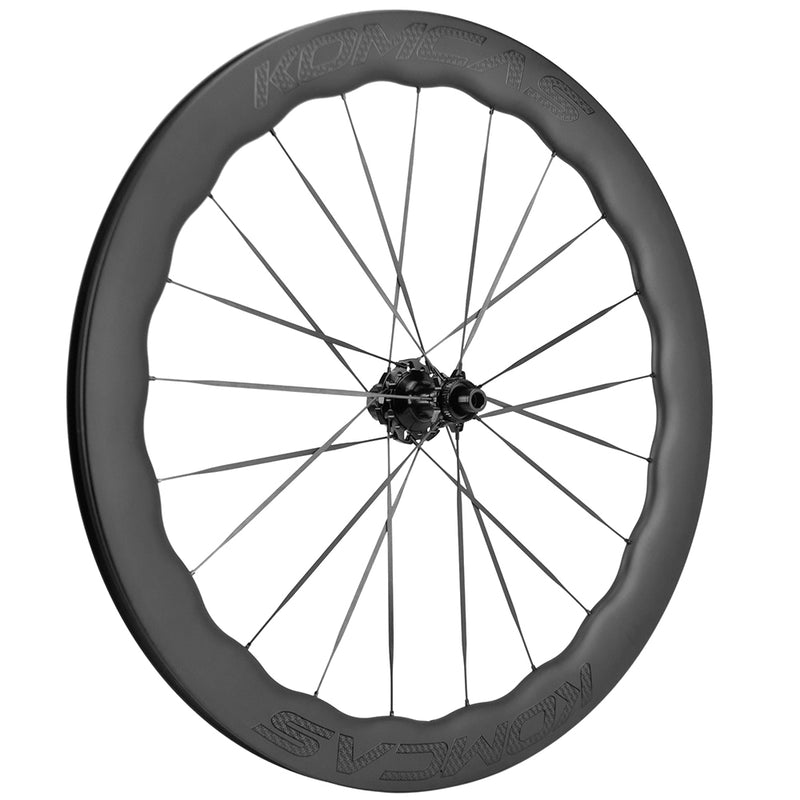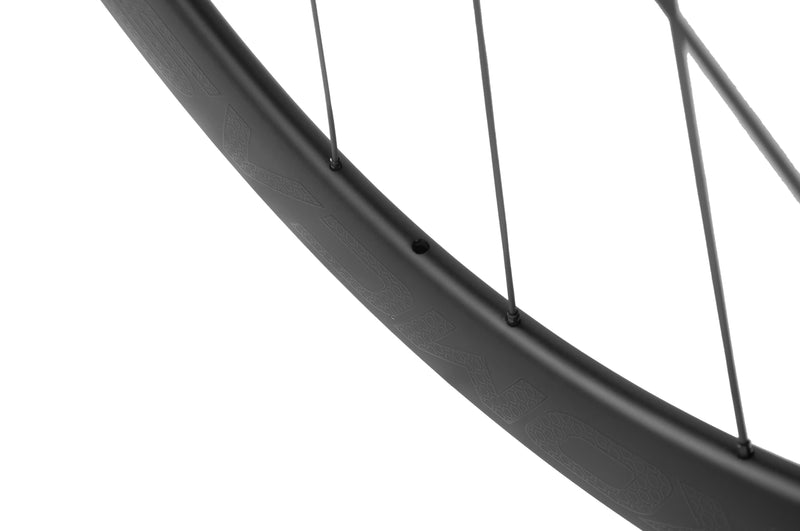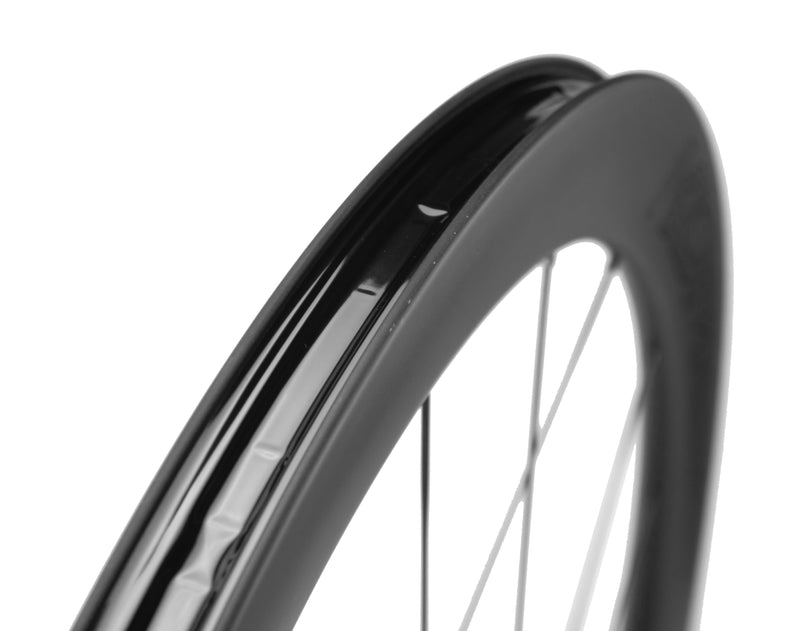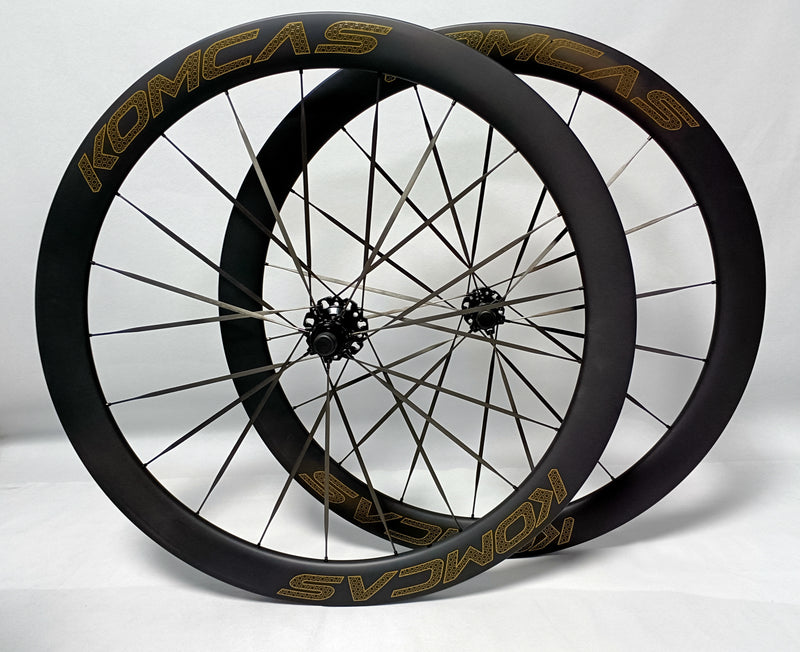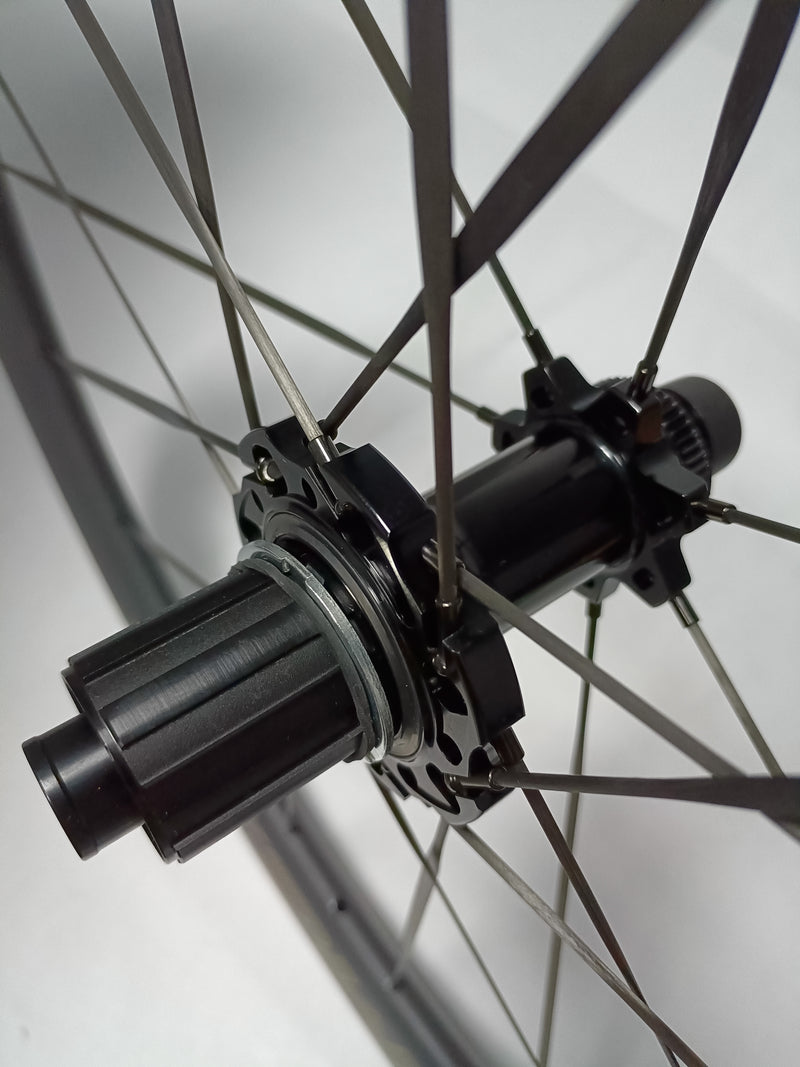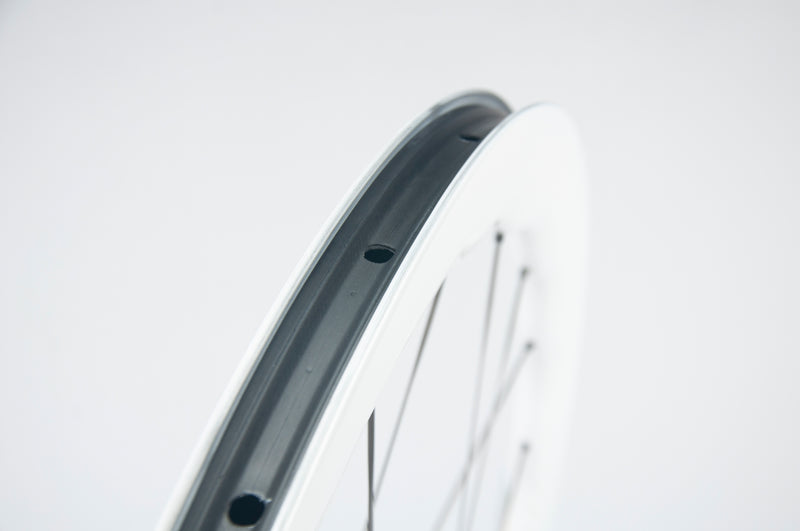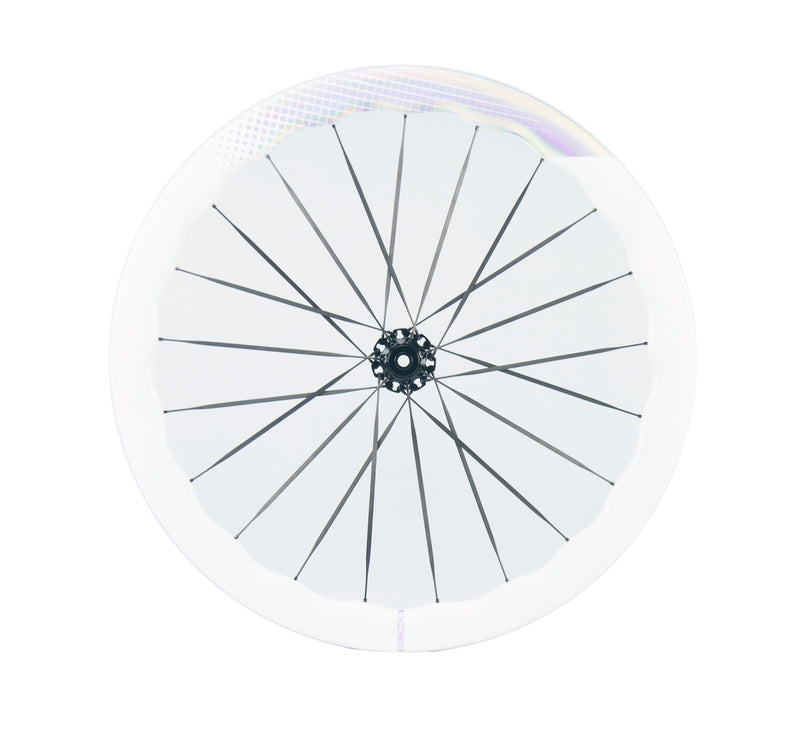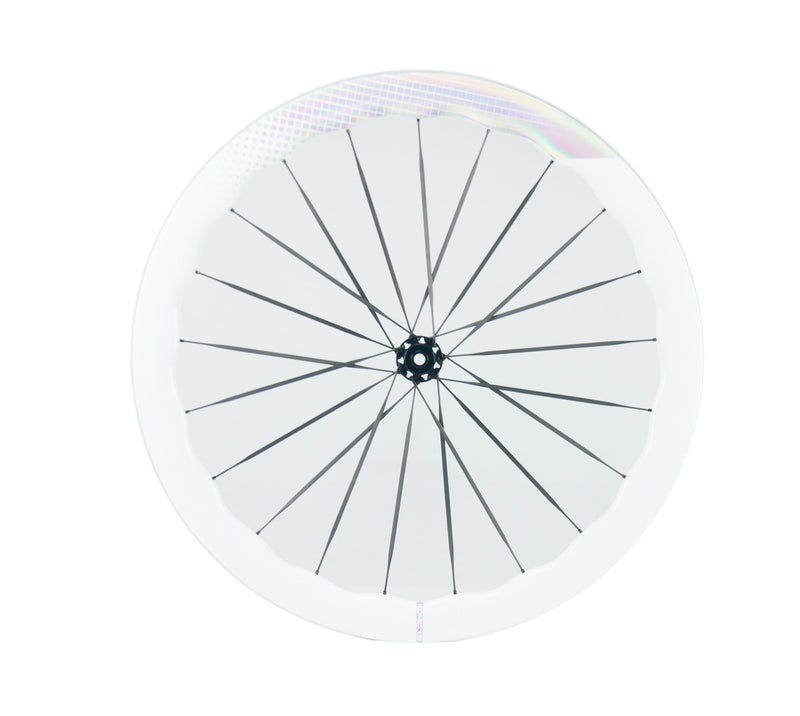 The Wheelset weight(g/Pair):
Wave 60mm Disc: 1430g

Wave 50mm Disc:1420g

Smooth 50mm Disc :1395g
Specification
 
Disc Brake 
Model
EVO60 Wave
EVO50 Smooth
Rim Height
shaped rim varying between 55 and 60mm deep
50mm
Weight
1430g
1395
The weight of the wheelset does not include the weight of a quick-release skewer and a tire cushion.The weight has an error of ±3%. The actual product may vary.
External Rim Width
21mm
21mm
Internal Rim Width
28mm
28mm
Rim Material
T700+T800
Brake
Center lock disc brake
Spoke
X-CARBON,4th generation carbon fiber spokes
Spoke Type
21-21
18-21
Front Wheel Spoke Tension
100kgf±10%
Rear Wheel Spoke Tension
120kgf±10%
Front Wheel Spoke Lacing Pattern
21H, 2:1, Brake side×2, Non-brake side (Straight Pull)
Rear Wheel Spoke Lacing Pattern
24H, 2:1, Drive side×2, Brake side×2
Rim Type
Non-asymmetric
Wheel Spacing
100/142mm thru-axle
Freehub
Standard SHIMANO 11-speed (CP cassette body, available separately for XDR cassette body).
Compatible Cassette
SHIMANO 8-12 speed, SRAM 8-12 speed (Available separately for XDR cassette body for 12-speed).
Campagnolo 8-12 speed (Available separately for CP cassette body in all models).
hub
NBK Ceramic Bearings
Tubeless Ready
Yes
Package Standard
Carbon fiber front wheel*1, carbon fiber rear wheel*1, tubeless tape*2 (factory-installed), instruction manual*1
Warranty:
Two years warranty for wheels, three years for rims, one year for hubs, one year for steel spokes, and Two years for carbon spokes. If there is any damage caused by non-human reasons, we will return it to the factory for repair if it can be repaired, and if it cannot be repaired, we will directly replace it with a new one. If there is any damage caused by the reason, our purpose of after-sales is fast and low-cost, we only charge the cost of after-sales
About XDR freehub

, 

Please contact us, the XDR freehub can be provided within 7-12 days if we don't have it in stock.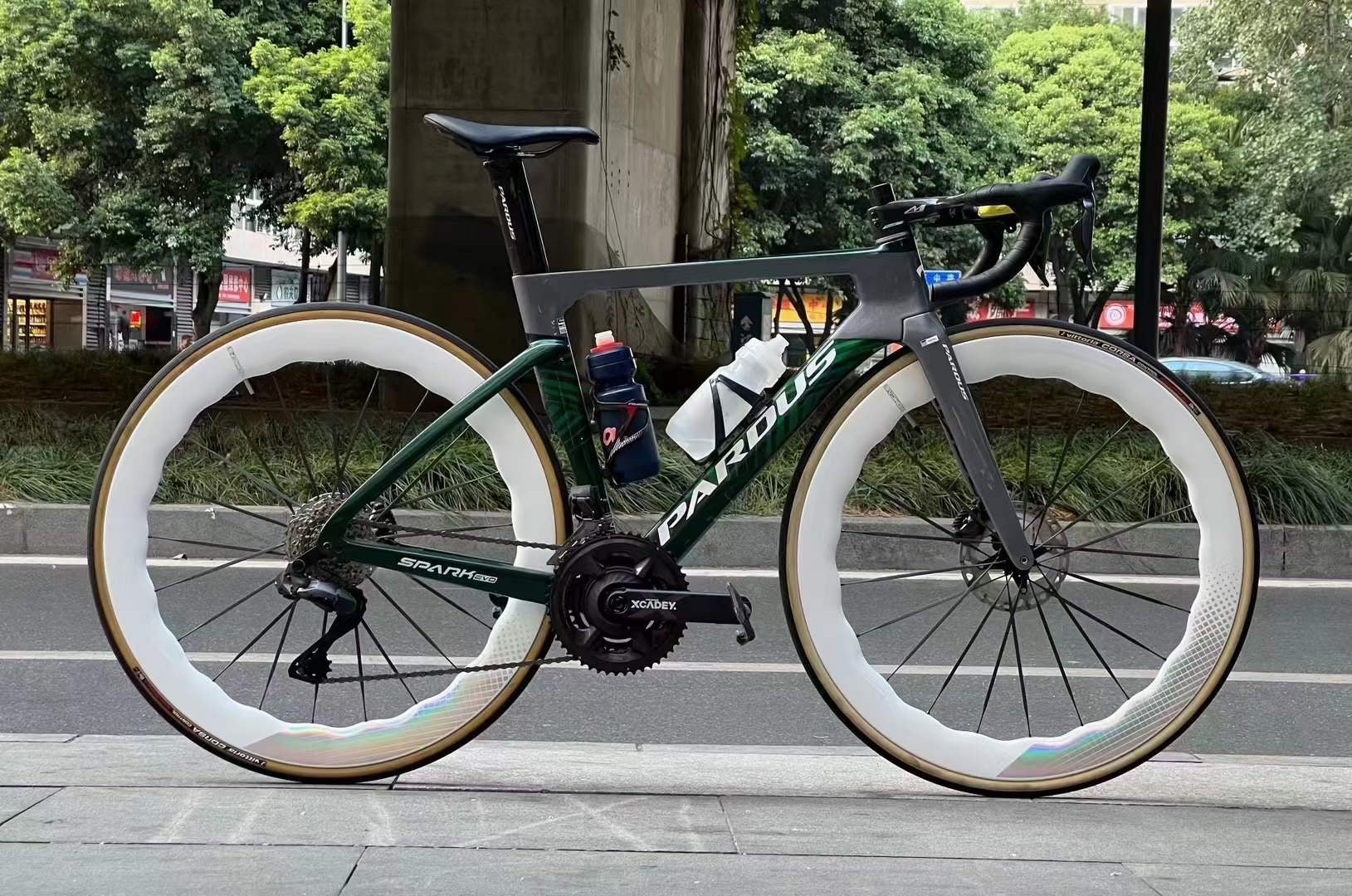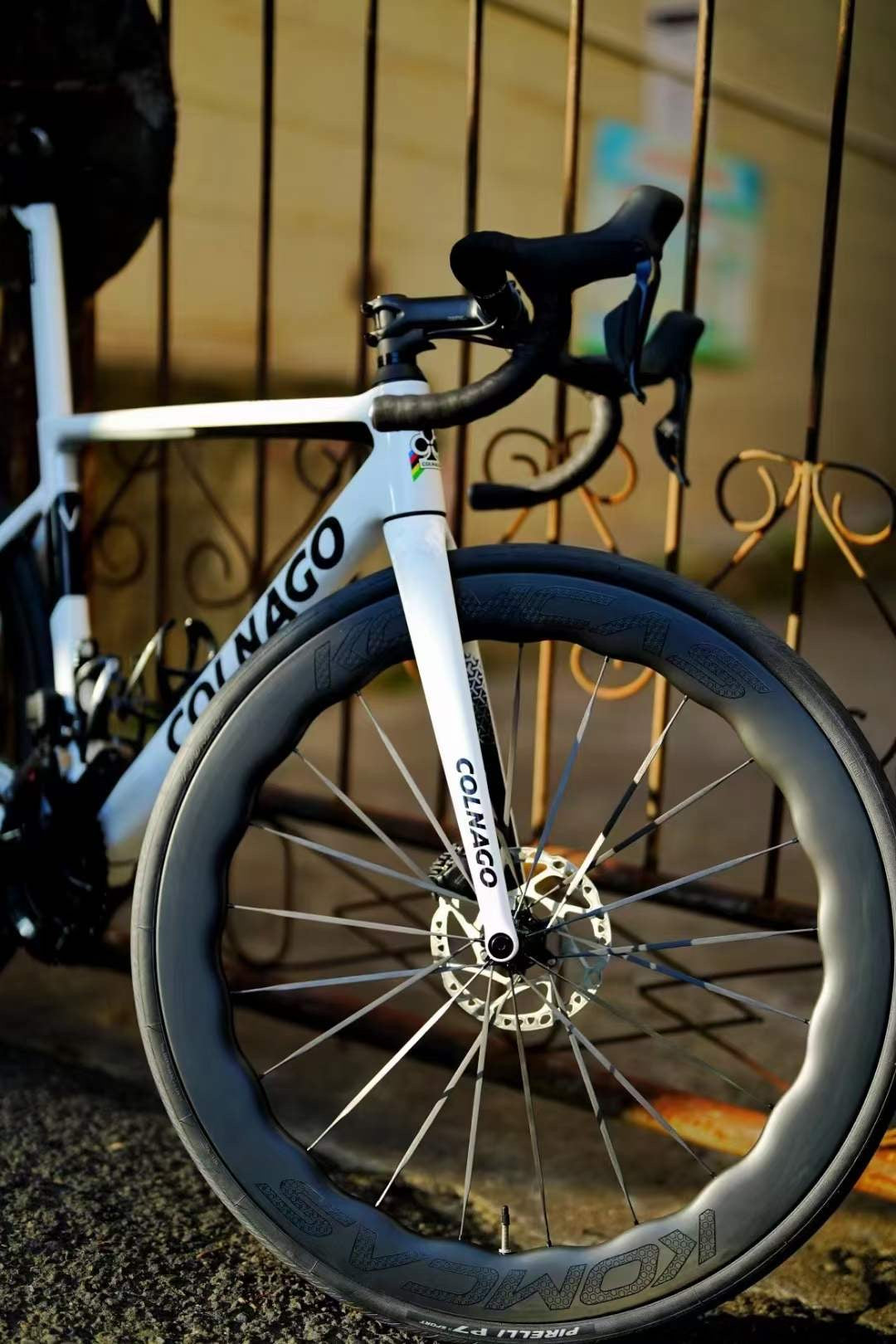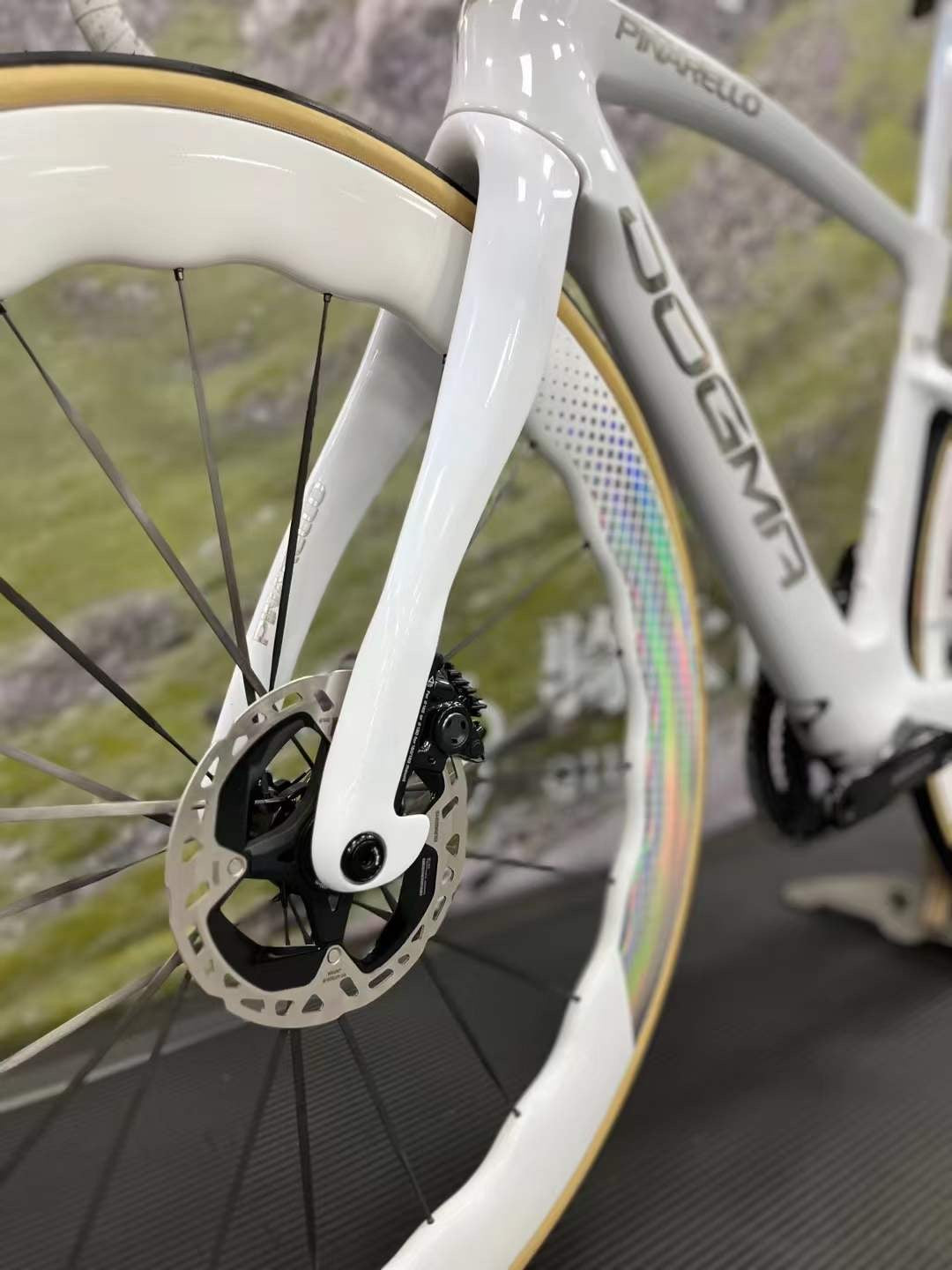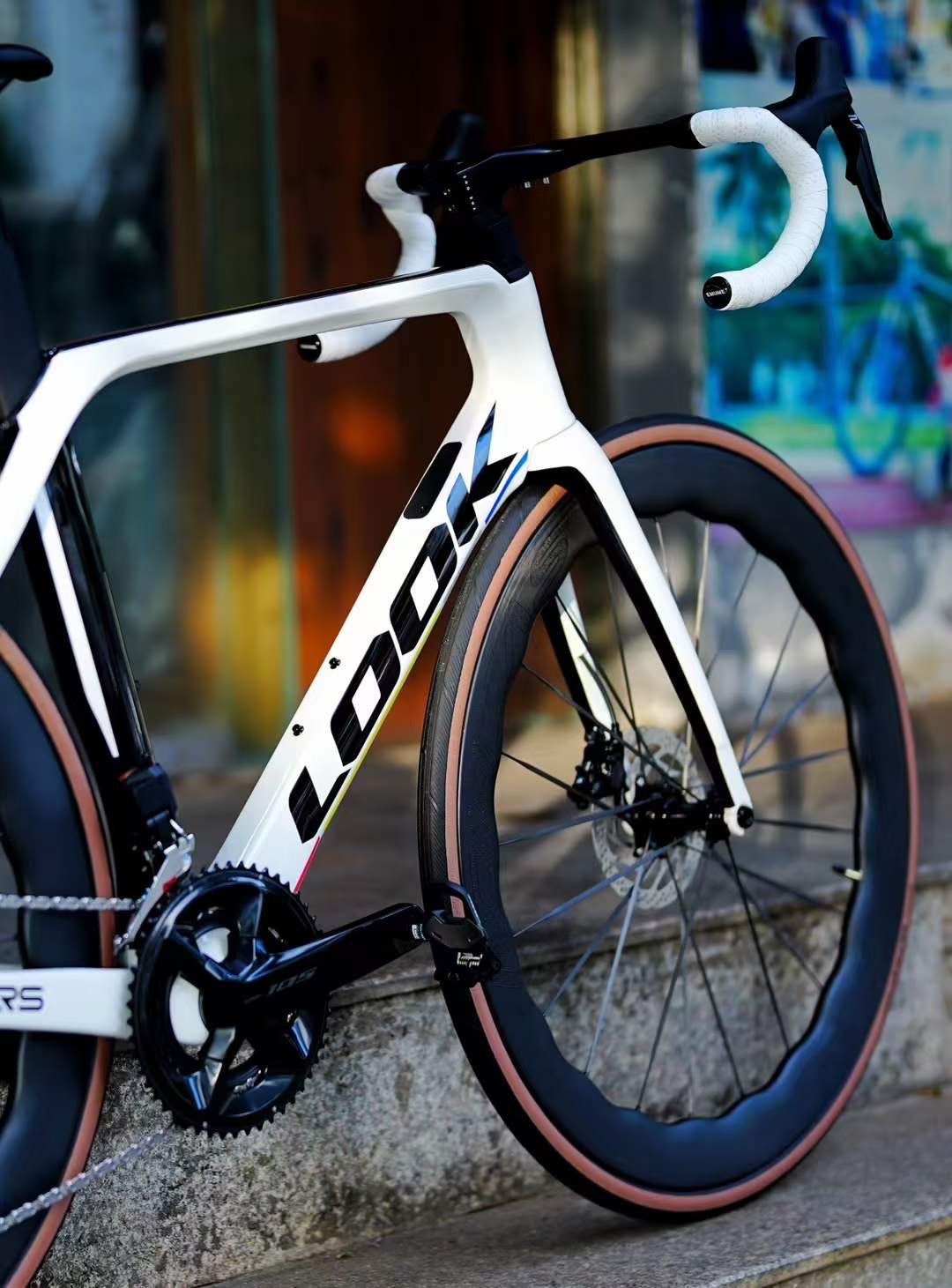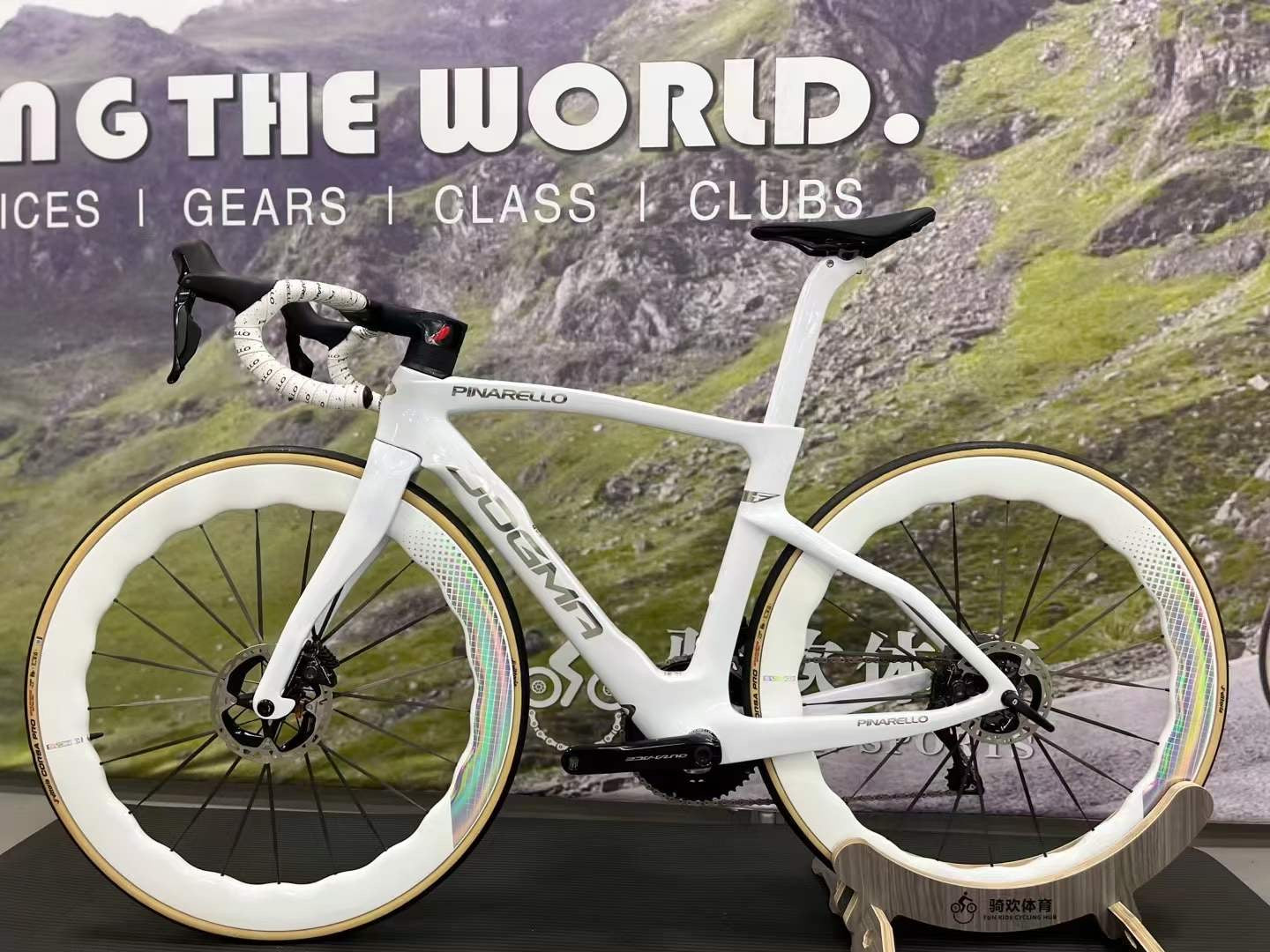 About KOMCAS
KOMCAS brand wheelset was established in 2021, relying on the technology and R&D accumulation of the factory over the past 10 years. KOMCAS strives to achieve the ultimate goal of being lighter, stronger, and more aerodynamic. KOMCAS is the 1st brand in China to make wavy wheelsets, carbon spoke super wavy wheelsets, and ice crack weave wheelsets.
As a rising star in the Chinese wheelset market, KOMCAS continuously innovates with its technical strength and spirit. While investing heavily in technology research and market promotion, KOMCAS also actively integrates global technical resources and draws on the promotion experience of significant brands to continuously improve its competitiveness. Whether it is a wave wheelset or a carbon spoke super wave wheelset, KOMCAS has won the favor of many consumers with its high quality and excellent performance. It is believed that in future development, KOMCAS will continue to inject new vitality into the domestic wheelset market with its excellent quality and innovative spirit.
With the continuous progress of technology and the constant pursuit of quality by consumers, the wheel market is also constantly upgrading. With its technological innovation and high-quality products, KOMCAS continuously meets the needs of consumers and has gained a good reputation in the market. At the same time, KOMCAS also actively practices social responsibility, pays attention to environmental protection and sustainable development, and has positively contributed to the industry's growth. It is believed that in the future, KOMCAS will continue to lead the development of the wheel industry and become a trusted brand for the world.