---
---
Segway Ninebot eKickScooter ZING E8

Vibrant Colors Designed for Children

With a slim body and vibrant color options, the Ninebot eKickSscooter E8 adopts an exterior design that is specifically tailored for children, with modes for every level rider.

An eye-catching design makes the ZING E8 perfect for kids, while tons of safety features keep their parents' minds at ease.

The Ninebot eKickScooter ZING E8 is equipped with a high-performance handbrake system which has the EBS energy recovery brake function. In addition, the rear fender also has a brake function. Triple braking system, extra safety precautions.
Hand Brake - Regenerative Braking System - Rear Fender Brake
With intelligent Smart Battery Management for peace of mind while battery life is maintained at keep safe on every use.
The slim body is made of aerospace-grade aluminium alloy, which brings high durability to the product. In addition, with a rating of IPX4 , the KickScooter can only withstand splashes of water*. That offers protection to the KickScooter but isn't fully waterproof.


In order to bring a comfortable riding experience, the eKickScooter ZING E8 is equipped with a 40 mm front shock absorption. This can effectively absorb the bumps from the roads. With high elastic solid rubber tyres, you can ride smoothly and have fun.
Specifications
Maximum Speed
14 km/h
Maximum Range
10 km
Motor Power
200 W
Speed Modes
3
Cruise Control Settings
Yes
Battery Recharging Time
4 hours
Battery Capacity

55.08 Wh (2550 mAh)

Water Resistance
Limited splash resistance IPX4
Suspension
Front 40mm
Wheel Type
Solid 

synthetic rubber (maintenance free)

Wheel Size

17.8 cm / 7 inch front&rear

Download User Manual>
Click Here
Warranty:6 months battery,controller and motor
Triple Braking System For Safety
For ultimate safety
The Ninebot eKickScooter ZING E8 is equipped with a high-performance handbrake system, an Electronic Braking System (EBS) with energy recovery function, and a rear fender brake. Where entertainment and safety merge.
Rear Fender Brake
Regenerative Braking System
Hand Brake
eKickScooter ZING E8 Features
Kick to Start
Come and try out a new way of riding kickscooters! Simply kick to start, and the scooter will continue to glide without needing to press the throttle. The harder you kick, the faster you accelerate.
Modes to Fit Every Rider
With three Modes to fit every child's pace, it's easy to learn on the E8. Start with Safety Mode, with a maximum speed of 6.2mph, continue to Cruise Mode, with a top speed of 8.7mph, and graduate to Throttle Mode, with a maximum speed of 8.7mph for more experienced riders. Children can switch modes easily with the click of a button.
Smart Battery Management System
The BMS system at Segway-Ninebot has undergone 7 years of continuous technological development and produced 300 million batteries. The Smart-BMS closely monitors the lithium-ion batteries with multiple protection mechanisms, such as short circuit protection, two-way charging and discharging protection, overcurrent protection, and temperature protection, to ensure safety and extend service life.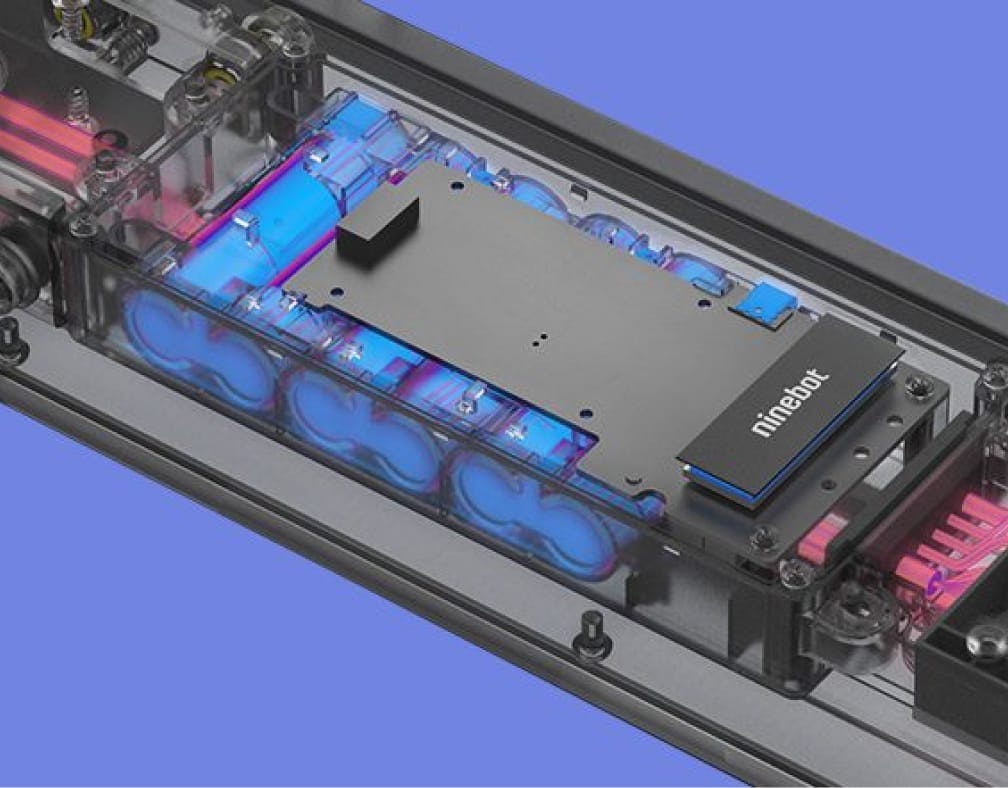 Integrated Battery Design
The battery pack adopts a new design and process that integrates the lithium-ion battery, controller, and BMS intelligent battery control system into one module, making the overall structure more compact and the body slimmer. In the battery pack, 18650 high-rate batteries with a discharge capacity twice that of ordinary batteries are used. This means your E8 uses the best of the best.
Foldable Design
With a body that is only 1.3 inches thick and a weight of only 17.6 lbs, the E8 was designed with portability in mind, and is easy to carry and fold, even for children. Transport it easily anywhere for endless adventure.
Front Shock Absorption
In order to provide a comfortable riding experience, the ZING E8 is equipped with 40mm Front-Shock Absorption, which effectively absorbs the shock from bumpy rides over sand, grass, dirt roads, and more. With high-elastic solid rubber tires, you can simply cruise along.
Aerospace-Grade Aluminum Alloy Body
The slim body of the E8 is made of aerospace-grade aluminum alloy, with a static load of up to 1,320 lbs, and has passed a 1,200 mile endurance test.
Elastic Solid Rubber Tires
The new high-elastic rubber tire is designed to be wear-resistant, with no need for inflation. The tire tread has also been redesigned to provide better grip and anti-skid performance.
Low Pedal Design
As the eKickScooter is only 3.9 inches off the ground, its center of gravity is low, allowing children to ride easily and with more control.
Stop and Go Easily
Designed to be simple and user-friendly, with a single push of your thumb, the E8 allows children to have full control over their ride.
Thermoplastic Rubber Handles
The handle grips are made of Thermoplastic Rubber (TPR) material, which makes them comfortable to hold, offers superior anti-skid traction, and offers more control over the vehicle. TPR handle grips are also easy to clean and maintain.
3M Reflective Stickers
The 3M highly-reflective sticker installed on the fender of the E8 offers a wide reflection angle for optimal safety and security. *The above data is from the Ninebot Laboratory. In use, the actual data may change due to changes in the surrounding environment.
Thumb Throttle
The thumb throttle has moderate resistance and responsiveness, which makes it convenient for riders to control their speed and fully enjoy the fun of "driving."
---